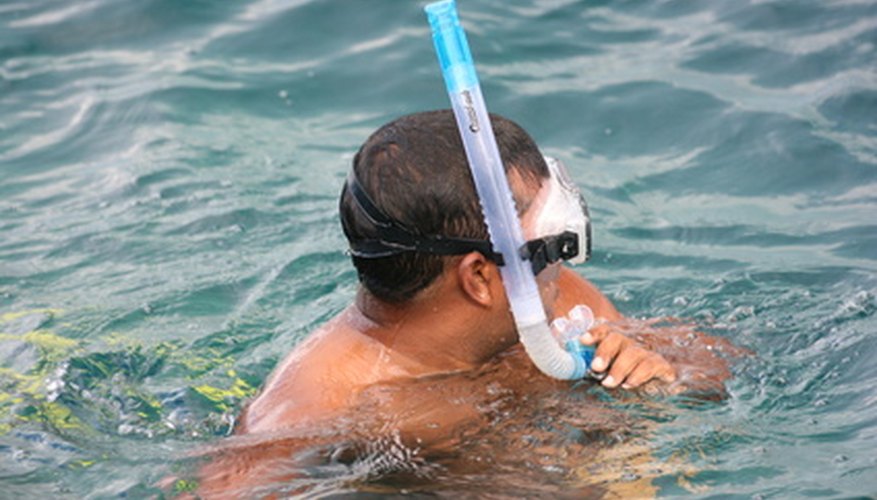 The Florida Keys are not the only place to find a quality snorkeling spot in the state. The white quartz sand, clear waters and pristine mangrove habitats of Florida's Gulf coast provide excellent snorkeling opportunities as well. Marco Island, located in Collier County, is the largest of Florida's Ten Thousand Islands and provides everything guests need to enjoy the health benefits of snorkeling.
Where to Stay
Marco Island has accommodations of all types, including inns, hotels, condominiums, and beach houses. When booking a place to stay in Marco Island, advise the booking agent of your interest in snorkeling, and she will recommend areas with beach access and outdoor showers. Some beach houses and hotels even offer complimentary or rental snorkeling equipment if you do not intend to bring your own.
Where to Snorkel
Finding a good snorkeling spot in Marco Island is as easy as exploring the coastline and jumping in the water wherever permitted. Some beach areas are better than others, but once you find your favorite spots, you will return again and again. You are most likely to find abundant wildlife in quiet areas away from recreational bathers. Marco Island's mangroves are another noteworthy snorkeling destination. Rent a kayak and book a guide at the nearby fishing village, Isles of Capri, to begin your adventure. Paddle through the area's mangrove tunnels and hop in the water when you find an especially clear, sunny spot. Small barrier islands just offshore are also excellent snorkeling spots. Local fishing charter companies offer guide services and can arrange offshore snorkeling trips to explore the uninhabited islands or fishing/snorkeling combination trips.
When to Snorkel
Spring and summer are good times for snorkeling because Marco Island water temperatures reach the upper 80 degree range by midsummer. Peak fishing charter season occurs during the winter on the island, so you have a much better chance to use the local fishing charters as snorkeling guides during the summer.
What You Will See
Snorkeling at Marco Island is different from snorkeling in the reefs of the Florida Keys. The Gulf coast is sandy and has lagoon-like habitats as well as sawgrass and mangrove habitats. In the lagoons, expect to see small schooling fish. Marco Island's mangroves house well-camouflaged shrimp, crabs and small fish fry as well as tarpon, redfish and snook. When snorkeling offshore among the small barrier islands, make sure to take a moment to examine the many beautiful shells scattered along the shores.
Considerations
Red tide, a harmful alga bloom, sometimes infiltrates the Marco Island area. The alga can cause respiratory problems, and visitors should avoid the water if they notice a reddish or brownish discoloration. The Florida Fish and Wildlife Conservation Commission tests for and reports on red tide and other water quality issues weekly. While spring and summer are the best times to snorkel, Marco Island's rainy season begins in the summer. Rain showers occur about once a day during the summer and do not last long. Heavy showers stir up the water, making it hazy, and cloud cover from above further reduces snorkeling visibility. Do not let Marco Island's summer rains catch you off guard. If an afternoon shower is expected, begin snorkeling in the early morning. If an evening storm occurs, do not go out first thing in the morning. Wait until the afternoon to allow the water enough time to settle.
References
Writer Bio
Jennifer King has written and edited since 1994, and now works as a business technical writer. Her articles appear on GardenGuides, eHow and LIVESTRONG.COM. King has a Bachelor of Arts in English, a minor in Latin American and Caribbean studies, coursework in yoga and certifications in nutrition and childhood development.