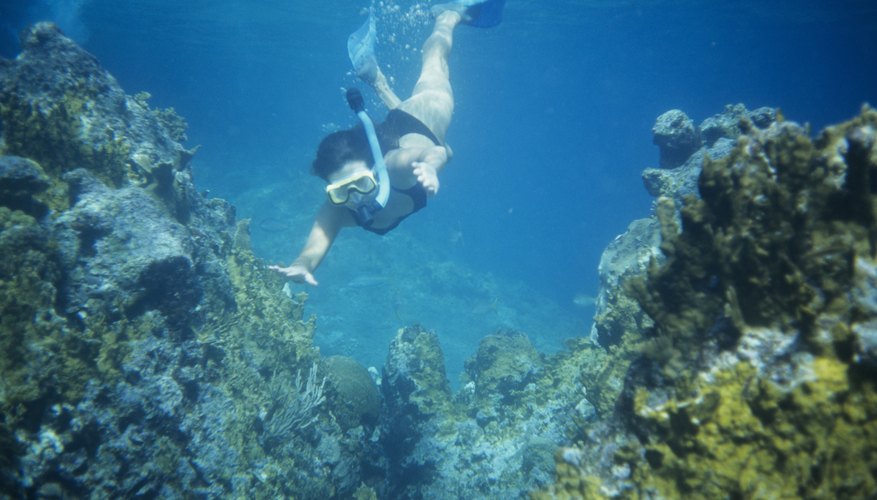 The beaches of Fort Myers and its outer islands -- located on Florida's west coast -- are a haven for man-made reefs. Natural coral reefs aren't native to these areas, but shipwrecks and other debris have created homes for many ocean creatures and marine life. Put on your flippers, secure your mask and insert your snorkel; because you're about to look under the clear Gulf water to see fish, reef and live shells.
Snorkeling in Fort Myers
Fort Myers Beach, the most prominent beach in the area, offers several hot spots for snorkeling, including Blind Pass. There are 35 public access points to the seven-mile long beach. Bring along your snorkeling gear and enjoy the shallow water, while also enjoying other beach activities such as swimming and shelling.
Many professional tour companies offer educational and adventure snorkeling excursions from Fort Myers Beach, too. Adventures in Paradise is one suggested by the visitor's bureau. However, the best snorkeling is reserved for the outer islands, just off the coast.
Sanibel and Captiva Island
While not part of the city of Fort Myers, the Sanibel Island beaches are considered part of the recreation area. Sanibel is located just off Fort Myers Beach, and just north of that is Captiva. There are more than 20 artificial reefs along the coast of Sanibel and Captiva.
The largest is the Edison Reef -- named for Thomas Edison, a famous Fort Meyers seasonal resident. When the Fort Meyers bridge sank, an underwater habitat was created. This reef is located approximately 15 nautical miles from the Sanibel Lighthouse.
The Belton Johnson Reef -- named for a well-known fishing guide -- is located five nautical miles off Bowman's Beach.
Snorkeling Excursions
The Sanibel Captiva Islands Chamber of Commerce keeps a directory on its website of cruise companies and private captains that offer snorkeling excursions.
The Sanibel Island Cruise Line maintains an inventory of 30 sets of snorkeling gear; and takes guests out to a prime location, allowing snorkelers to explore in three to eight feet of water.
Captain Paul's Yacht Charters offers small groups a private charter tour aboard the 44-inch Boadicea. The tours come with a captain and crew, as well as snacks, soft drinks and coffee. Guests are able to swim, fish and snorkel, with all gear included.
Cayo Costa State Park
For snorkelers with their own equipment, Cayo Costa State Park -- just west of Fort Myers and north of Sanibel -- offers snorkeling in its pristine, blue Gulf of Mexico waters. Visitors can also swim in the gulf, as well as sunbathe and shell along nine miles of beach.
The state park, which has cabins for rent, is accessible only by private boat or ferry. Cayo Costa is known for its secluded beaches, making this a perfect location for couples.
Snorkeling Gear
Looking to snorkel in Fort Meyers, but don't have the gear? Never fear. Even if you aren't going on a guided excursion where masks, snorkels and flippers are provided, you can still get the proper accessories for this popular activity. There are plenty of dive shops dotting the Fort Myers streets; including Captain Pete's Diving Outfitters on Colonial Boulevard and Eagle Ray Dive Center on Bonita Beach Road.
References
Writer Bio
Since 2000 Donna T. Beerman has contributed to newspapers and magazines. Her expertise includes higher education, marketing and social media, and her presentations and writing have won industry awards. She has an MFA in creative writing, is the integrated marketing manager at a Pennsylvania college and founded "Hippocampus Magazine."