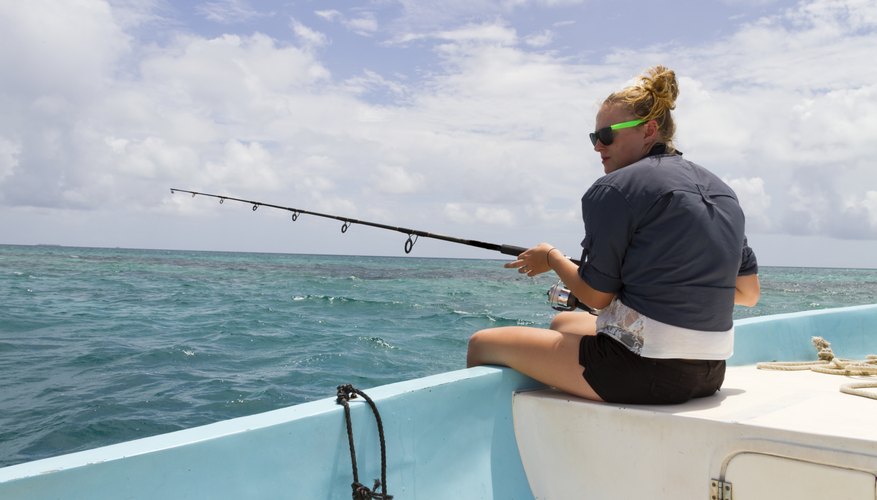 Casting a line into the emerald water of the Gulf of Mexico and pulling up a monster grouper to have for dinner can be a great bonding experience for friends and entire families. Panama City Beach is among the fishing hotspots for deep-sea fishing along Florida's Panhandle, and there are plenty of options that don't break the bank. Most charters also provide fishing licenses and all necessary gear for guests, making for a hassle-free day on the water.
Aye Aye, Captain
Capt. Anderson's Marina is one of the most popular spots for deep-sea fishing charters along the Florida Panhandle. No fewer than a dozen boats -- including a few party boats that accommodate 60 to 70 anglers -- head out every day for fishing in open water. Party boats represent the lowest cost for those fishing solo or in small groups. You can hop aboard a boat from the marina's own Queen Fleet for trips lasting anywhere from five to 12 hours and fish for grouper, red snapper, amberjacks and more. Breakfast, lunch, snacks and drinks are available for purchase when you want to break from baiting hooks.
Jumpin' Jubilee
Another low-cost, party-boat option for your deep-sea fishing adventure in Panama City Beach is Jubilee Deep Sea Fishing, operating out of Treasure Island Marina. Four- to eight-hour trips take you out onto the gulf on either the two-deck Jubilee or the 60-passanger Treasure Island. Both boats allow you to bring small coolers aboard, and the Jubilee has an air-conditioned interior, including a snack bar, when your arms are tired from reeling in mackerel, snapper and other species.
Smaller Boats, Bigger Fish
If you want to keep the per-person rate low and avoid the crowds of the party boats, get a group of six or more people together and book a four- or six-hour trip with a private charter. Top Deck Charters runs out of Panama City Beach's Lighthouse Marina, with fishing boats that can carry up to 10 anglers. Because they don't have to look after 60 people, Top Deck's captains and mates can give your group more personalized attention and focus on the fish you want to go after -- even if your goal is to win an hour-long battle with a sailfish.
More Bang for Your Buck
Bandit Charter Fishing operates out of Capt. Anderson's Marina, but it's a private charter rather than a party-boat fleet. It's among the least expensive charters in Panama City Beach for shorter trips of four or six hours with at least six anglers. It's captains and mates will share decades of expertise with your group while you troll for tuna, wahoo or mahimahi, or go long range in a hunt for trophy fish like blue marlin.
References
Writer Bio
Paul Love has worked as a writer and editor since 2000, working with magazines, books and digital media. He has worked with publications such as "Saveur Magazine," "Islands Magazine," "Sport Diver," "Florida Travel + Life" and HGTV.com as well as books with publishers including Lebhar-Friedman and International Masters Publishers. Love received a bachelor's degree in English from the University of Central Florida.