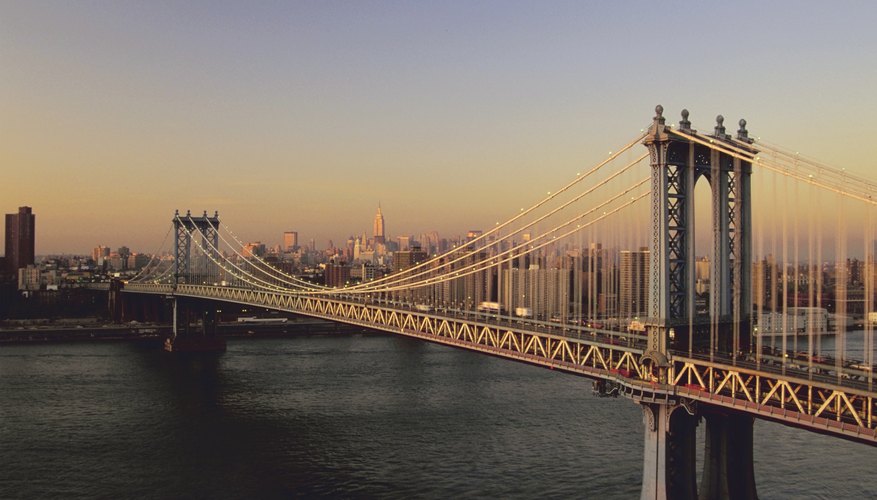 New York City pops up in feature films and TV shows for a reason -- it's one of the most varied, high-energy and romantic cities on the planet. Combine those attributes to celebrate a memorable birthday that weaves iconic locations into direct engagement. Get out on the water -- or walk over it. Learn or polish up a camera-ready skill. Catch some postcard views and take lots of souvenir pictures of an unforgettable Big Apple birthday.
Boating Birthday
Take your place in an impressionist painting in one of the rental rowboats on Central Park's 22-acre lake. People have been rowing on the lake since the 19th century in spring, summer and autumn. There are lakeside gazebo landings to relax in while you watch the swans or just enjoy passage around the lake, which sits right in the middle of the picturesque park. Or if you're feeling less energetic, you and your partner can book a half-hour gondola ride and let the gondolier do the work.
Romance of Zorro Birthday
If you love the old silent movies with their grand staircase sword fights, grab your epee and head for the Fencers Club on West 28th Street. The club was established in 1883 and has trained Olympians and world and national champions. Private lessons and open classes cover all three weapons -- foil, saber and epee -- and there are drills, footwork and open bouting. Significant others are welcome to watch or join in. En garde! Fencing is a great workout, but it's also addictive. A lesson could be the beginning of a lifelong obsession.
Briny Birthday
Learn to fly across the water under sail in a protected harbor. City Island is a small, historic shipbuilding community in the Bronx that has produced five America's Cup winners. Today, there are numerous marinas and one of the best sailing schools in the region. Spend a birthday weekend learning to tack, jibe and helm at the New York City Yacht Club with your first mate. The Get Sailing package is three full days of instruction in real yachts -- more than 18 hours on the water. Gain Basic Keelboat Certification and Safe Boating Exam Certification, and maybe even a tan. City Island has some good seafood houses for a celebratory birthday dinner after the sails are stowed.
Ballroom Birthday
So you think you can dance? You can with a private lesson at Dance Times Square. Give your favorite partner the gift of Latin or ballroom dancing; private lessons are 50 minutes long and many of the instructors are names you will know from "Dancing With the Stars" and "So You Think You Can Dance." Choose East Coast swing, merengue, rumba, Viennese waltz, tango, foxtrot, or whatever you both always wished you could do without counting out loud. It's a real shake-your-bootie birthday, and Times Square is steps away for some serious partying when the music stops.
Brooklyn Bridge Birthday
Walk across the Brooklyn Bridge at sunset from City Hall in Manhattan to Fulton Ferry Landing in Brooklyn. A bike-pedestrian boardwalk takes you over the East River, with breathtaking vistas of both skylines and the Statue of Liberty. Once in Brooklyn, stop at Fulton Ferry Landing with its Walt Whitman quotes and view of Manhattan before heading into the legendary River Cafe --with a reservation -- for organic Amish chicken or locally sourced vegetarian spinach ravioli. The River Cafe is right under the bridge, at 1 Water Street, and it wins awards decade after decade as "The Most Romantic Restaurant in America." Split the handmade Chocolate Marquise Brooklyn Bridge instead of birthday cake, and then stroll off all those calories on the walk back.
References
Resources
Writer Bio
Benna Crawford has been a journalist and New York-based writer since 1997. Her work has appeared in USA Today, the San Francisco Chronicle, The New York Times, and in professional journals and trade publications. Crawford has a degree in theater, is a certified Prana Yoga instructor, and writes about fitness, performing and decorative arts, culture, sports, business and education .