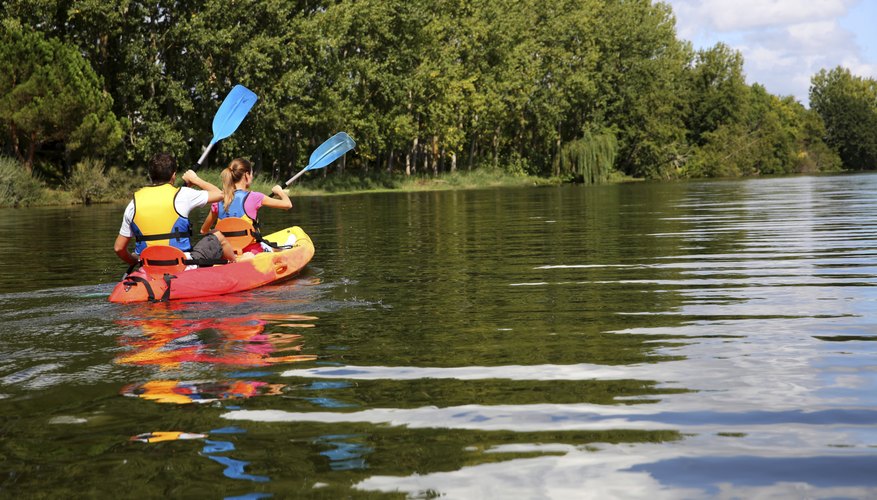 With hundreds of lakes and streams and nearly 200 miles of coastline, Massachusetts is a paddler's paradise. Kayak enthusiasts can choose between placid bays, slow-rolling rivers and torrential whitewater, with opportunities for kayakers of all skill levels. Even in a state with such an abundance of options, a handful of kayaking spots in Massachusetts truly stand out in terms of scenery, solitude and sheer variety.
An Urban Oasis
Considering its proximity to such a major city, the waters of Boston Harbor are surprisingly secluded, and thousands of acres of open water makes it easy to get away from the crowds. The harbor's many islands are part of what makes the harbor such a scenic and varied place to paddle and create a natural barrier that keeps the rough winds and waves of the Atlantic Ocean at bay. You can circle the shoreline of Little Brewster Island, home of the oldest lighthouse in the nation, or pull up on Calf Island for a short hike. The harbor also has great fishing. Cast for striped bass, cod, flounder and many other species from your kayak (a current Massachusetts saltwater fishing license is required). Easily-accessible launch points can be found at Deer Island park and Fort Point Pier.
The Great Marsh
At the mouth of the Ipswitch River, about an hour north of Boston, Plum Island Sound and the adjoining Great Marsh wetland are among the wildest places on the Massachusetts coast. From access points in Parker River National Wildlife Refuge and Sandy Point State Reservation, kayakers can explore more than 20,000 acres of protected salt marshes, secluded islands and sheltered coves. A navigation chart is essential to navigate through the maze of land, water and vegetation, and you should familiarize yourself with the area's tides so you don't become stranded at low tide. The U.S. Fish & Wildlife Service website provides a variety of resources for kayakers and canoeists in the Great Marsh.
Rolling on the River
From its headwaters near the town of Hopkinton, the Charles River flows 80 miles through eastern Massachusetts before spilling into Boston Harbor. Kayakers in the lower portion of the river can paddle past Harvard, MIT and the Boston skyline or explore the upper river above Watertown Dam, which meanders through small towns and rolling farmland. Dozens of parks, portages and launch sites provide access along the river. Maps and information are available through the Charles River Watershed Association.
Whitewater Adventures
In contrast to the placid rivers and marshes of eastern Massachusetts, the mountains in the western part of the state are home to turbulent streams and some of the most ferocious whitewater in New England. For whitewater kayakers in search of a challenge, the Deerfield River provides everything from mild rapids for beginners to raging Class IV and V rapids that should be attempted only by experienced whitewater experts. Before you go, it is essential to check the dam release schedule, especially during spring and fall. Discharges from the dam can boost the river's flow to 1,000 cubic-feet-per-second or higher, making it extremely dangerous to navigate. The dam schedule and other river information is available through the Deerfield River Watershed Association website.
References
Writer Bio
When Richard Corrigan isn't writing about the outdoors, he's probably outside experiencing them firsthand. Since starting out as a writer in 2009, he has written for USA Today, the National Parks Foundation and LIVESTRONG.com, among many others, and enjoys combining his love of writing with his passion for hiking, biking, camping and fishing.