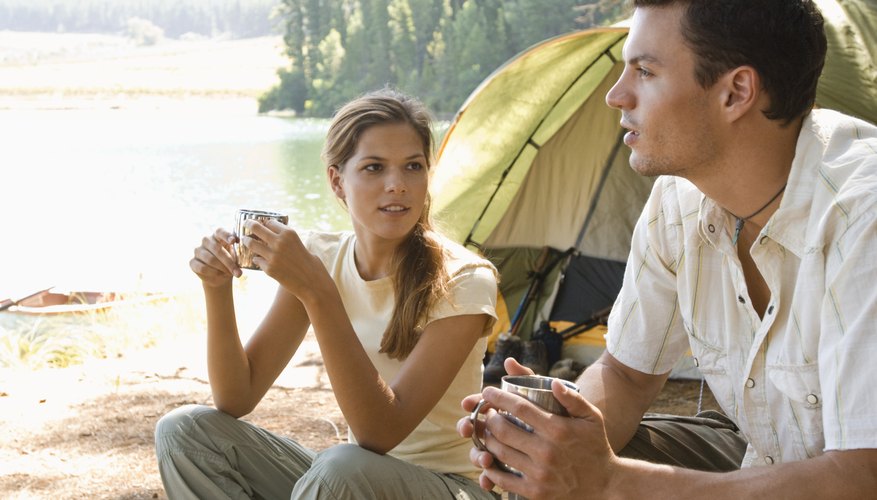 The mighty Colorado River winds through the American Southwest, starting from a trickling brook high in the Rockies of Colorado and emptying into the Gulf of California just across the Mexican border. This river has roaring rapids and gentle flows along its 1,450-mile length, with numerous campgrounds dotting its banks along the way in several states.
Colorado Area Camping
The Colorado River begins its journey at the Headwaters region located in Rocky Mountain National Park, just northwest of Boulder, Colorado. This area offers plenty of spots for tent camping near the river, with numerous outlets for hikes and backpacking along the river banks and up into the Rocky Mountains. The National Park Service recommends calling ahead for reservations during peak seasons in late spring, summer and early fall.
The river then flows southwest from this location, eventually crossing into Utah, just outside of Grand Junction, Colorado. At Grand Junction, tent camping is allowed near the river at Saddlehorn, located inside the Colorado National Monument boundary. For those wanting a less-populated camping area, the Colorado River Island Acres State Park—located about 20 miles east of Grand Junction—offers tent camping along the river as well.
Utah Area Camping
In Utah, the Colorado River winds through numerous canyons along a string of very popular national parks, such as Arches, Canyonlands, Glen Canyon National Recreation Area, Lake Powell and the Grand Staircase Escalante National Monument. Numerous campgrounds are available, many of which rest near the banks of the Colorado River. Reservations are a must during peak seasons of spring, summer and fall; otherwise, you'll be forced to camp away from the river on Bureau of Land Management land. River activities in this region are high risk due to the river's ferocity as it winds through the canyons and crashes onto rocks, forming dangerous class four and above rapids. River activities here should be conducted under the supervision of an experienced guide.
Arizona Area Camping
Out of Lake Powell on the border of Arizona and Utah, the Colorado River bends south and then curves west into the Grand Canyon National Park. River-area tent camping is allowed here but requires a supervised hike down into the canyon. Since this stretch of the Colorado River is extremely popular, you must join a waiting list to canoe, kayak or otherwise paddle the river here.
Along the border of Nevada in Arizona, you can camp along the river at Katherine Landing, just outside of Lake Mead National Recreation Center. Tent camping is also permitted along the border of California in Arizona, near Lake Havasu at Lake Havasu State Park, in Cattail Cove State Park, and at Buckskin Mountain State Park and River Island Unit.
Rules
In many locations, including within state parks, you can only set up camp in designated areas. In backcountry or BLM areas, you must be at least 200 feet away from the river. Never throw trash into the river and practice "Leave No Trace" ethics while camping so others can enjoy the area just as you have.
Rules and Safety
When camping along any river, safety is a prime concern. River levels can rise rapidly without warning, especially during the rainy season. If you notice black clouds and thunderstorms upstream, pack up and get to high ground immediately. Violent flash floods are common in this region and also occur without much warning. Never attempt to cross the river where the water is above your hips or is extremely swift. The Colorado River's current is extremely strong and can send you helplessly downstream without warning. Never attempt any river activities that are outside of your experience level or comfort zone.