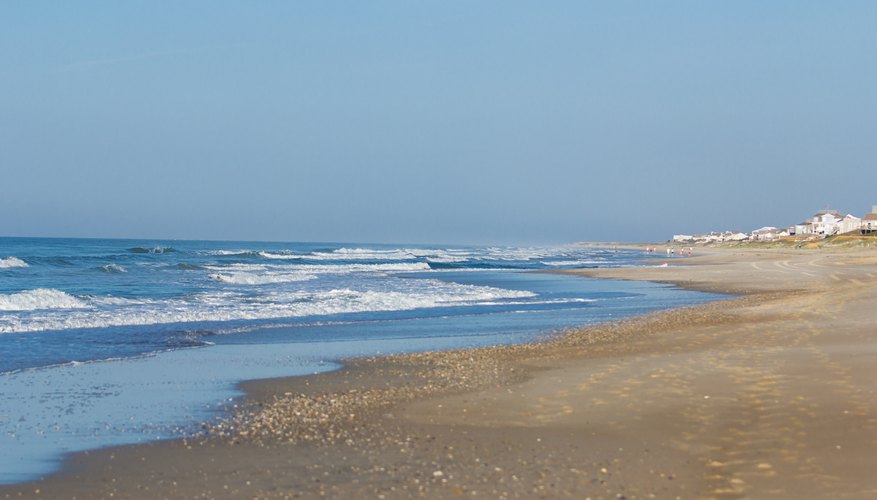 North Carolina is comprised of more than 300 miles of coastline. From barrier islands to inlets and sounds, North Carolina's beaches are popular with vacationers. The beaches are small, which affords visitors the opportunity to find rare and untarnished sea shells as they comb the beaches. North Carolina's climate and Atlantic waters provide optimal conditions for sea shell collection.
Oracoke Beach
Within North Carolina's Outer Banks are small beach towns and villages, such as Oracoke. These towns and villages are often the best beach locations for finding seashells. In fact, Oracoke was ranked the second-best beach in America for sea shells in 2007 by Coastal Living Magazine. You can also find seashells in the more traveled parts of the island, but your chances are better during low tide or after a storm.
Hatteras Island
Also within the Outer Banks is Hatteras Island. Between the Atlantic Ocean and Pamlico Sound, Hatteras Island is 30 miles from North Carolina's mainland. Hatteras Island sees sea shell seekers in droves each summer. The region's location within the Atlantic, its stormy and rainy seasons as well as its frequent sandbars allow for unique beachcombing experiences. Sea shell seekers on Hatteras Island often find Scotch bonnets and the North Carolina state shell along its beaches.
Bald Head Island
Accessible only via boat or ferry is North Carolina's remote and serene Bald Head Island. The island is encompassed by 14 miles of white sandy beach and has year-round mild temperatures due to its proximity to the Gulf Stream. As a recipient of such warm waters, Bald Head Island's beaches are ideal for collecting sea shells. The sand from Fort Fisher to Cape Fear provides a pristine stretch of beach for shell searching.
Wilmington
Wilmington, North Carolina, is home to three beaches along Cape Fear's coastline. Wrightsville Beach, Kure Beach and Carolina Beach are all within a half hour's drive from one another. Wrightsville Beach's white sandy beaches are an ideal setting to beachcomb for shells as they are easier to recognize against the lighter background. Kure Beach's early morning sandbars present sea shell collectors a ripe opportunity for distinctive finds.
Emerald Isle
Emerald Isle, just southwest of the Outer Banks along the Bogue Banks barrier island, is home to lush and beautiful Atlantic beaches. While sea shells often wash up along the Emerald Isle coastal shorelines, more plentiful sea shells can be found just a short ferry ride from the island to Cape Lookout or Shackleford Banks. Both Cape Lookout and Shackleford Banks receive waves from the Gulf Stream, which allows for more shells to wash up and be found while snorkeling.
References
Resources
Writer Bio
Quinn Collins is a marketing manager for a global commercial real estate firm. Since 2007, Collins has published work on websites such as About.com and LIVESTRONG.COM, and creates nationally distributed market reports for her firm. Collins holds a Bachelor of Arts in communication and psychology from Denison University.