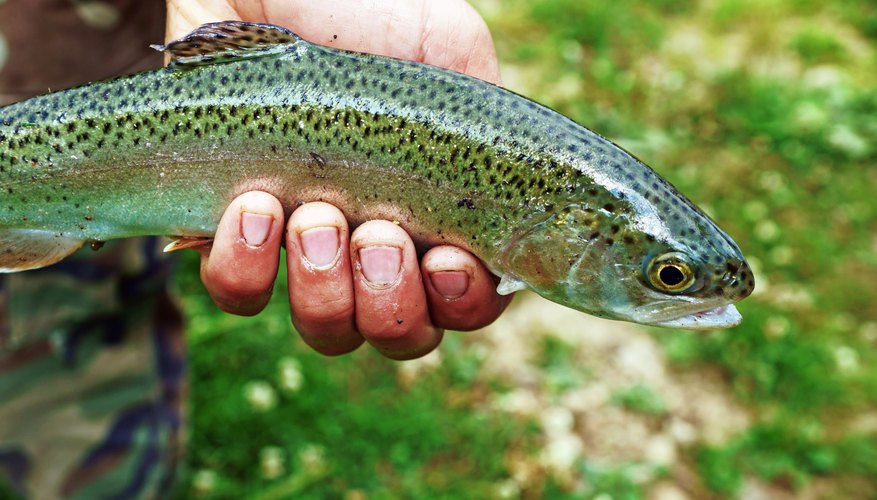 Pennsylvania has a lot of prime fishing destinations, from tiny ponds to the vast depths of Lake Erie. Trout provide some of the best fishing opportunities across the state, often proving to be a challenging but rewarding quarry for anglers of all skill levels. Many Pennsylvania streams harbor wild populations of brook, brown and rainbow trout, and the Pennsylvania Department of Conservation and Natural Resources stocks trout by the million in lakes and streams every year.
Statewide Trout Hot Spots
Every corner of Pennsylvania offers prime trout fishing waters, but many of the state's best streams can be found in the north-central region of Pennsylvania. Pine Creek, Cedar Run, Kettle Creek, Slate Run and Sinnemahoning Creek are all outstanding trout streams in the region. Farther east, the Lackawanna River and the aptly-named Fishing Creek are prime destinations, while western Pennsylvania offers up Neshannock Creek, Spring Creek and Tionesta Creek. Southern Pennsylvania has a few hot spots of its own, including Conococheague Creek, Letort Spring Run and Falling Spring Branch. If you prefer fishing in still water, a few lakes and ponds across the state are heavily stocked with trout. Canoe Creek Lake, Lackawanna Lake, Lake Pleasant and Upper Woods Pond are a few of the best.
Where to Look and What to Look For
There's more to catching trout than simply identifying a productive body of water. Conditions can vary greatly, even within a small section of a particular stream. Trout need several things in order to survive and thrive, perhaps the most important being cool, clear, clean water. Once you arrive at a stream, look for a few things that can help you identify good fishing spots. Mid-stream boulders provide good places for trout to rest, and streamside vegetation, overhanging wood cover and undercut banks provide the shade they need to hunt. Streams should be relatively free of silt and have a bottom of limestone or pea-sized gravel. Trout often reside in deep pools and relatively calm water, often downstream of riffles or rapids.
Fishing Tips, Tricks and Tactics
There are a lot of ways to catch trout in Pennsylvania. Live minnows and worms, where permitted, can be very productive, and some anglers swear by spinners, spoons or soft plastic lures. Fly-fishing is often the most effective tactic, and for one simple reason: trout are picky. One thing that makes a trout stream great is a variety of available prey species, particularly insects. When an insect species hatches in abundance, trout will often eat nothing else. The most successful fly fishermen tempt trout by choosing flies that mimic caddis flies, stoneflies, mayflies or whatever happens to be hatching at any given moment. If you're fishing for stocked trout in a lake, however, your job is a lot easier. Newly-stocked trout are easier to catch on a variety of baits and lures, striking more readily than their wild cousins because they simply don't know better.
Know Before You Go
A current Pennsylvania fishing license is required to fish all waters across the state, and an additional trout and salmon permit is required to keep or possess trout and to fish for trout in certain streams. Licenses and permits are available through the Pennsylvania Fish and Boat Commission website and at a variety of retailers statewide. Trout fishing rules and regulations in Pennsylvania can be tricky, involving various stream classifications, seasonal regulations and location-specific limits. An annual fishing regulations guide is available for free through the Fish and Boat Commission website and anywhere licenses are sold, and this guide is recommended reading before you hit the water.
References
Writer Bio
When Richard Corrigan isn't writing about the outdoors, he's probably outside experiencing them firsthand. Since starting out as a writer in 2009, he has written for USA Today, the National Parks Foundation and LIVESTRONG.com, among many others, and enjoys combining his love of writing with his passion for hiking, biking, camping and fishing.