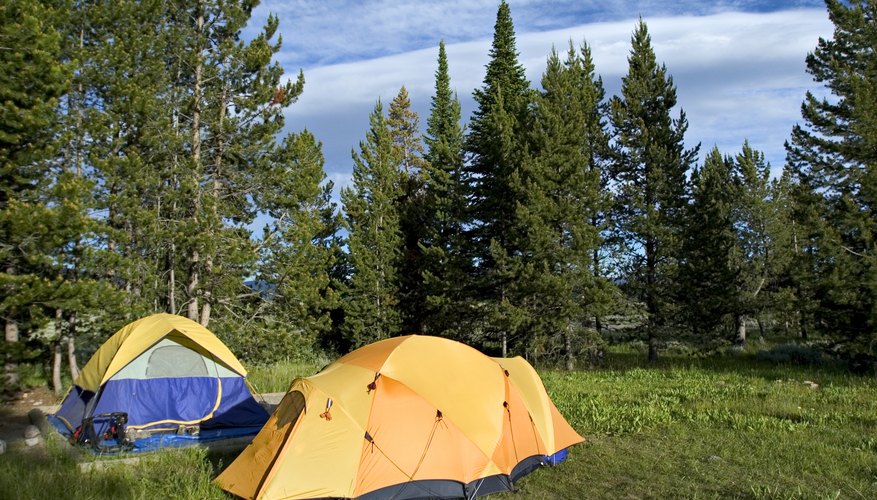 The Absaroka Mountains near Yellowstone National Park's east entrance in Wyoming has miles of rugged trails to hike and tumbling waters where you can fish for Yellowstone cutthroat and rainbow trout. You'll see much of the same wildlife in this rugged area that you would inside the park, including grizzlies, moose, elk and deer. The 50 miles between the park entrance and Cody are home to a handful of campgrounds where you can get your hook wet, take a backcountry hike and stay a convenient distance from the park.
Bearly Outside
Three Mile Campground lies just 3 miles east of the Yellowstone Park entrance along the North Fork of the Shoshone River. Tucked into a stand of lodgepole pine, the campground has mountain views and access to the Pahaska Trail leading into North Absaroka Wilderness Area. Campsites have primitive amenities, including a fire ring, food storage locker, table and grill. The campground has a self-pay kiosk, potable water and restrooms, and is known as an excellent birding area. Eagle Creek Campground lies just 7 miles outside the park entrance with similar amenities, but tents and pop-up trailers are not allowed due to bear activity in the area.
East Side Story
If you don't mind driving a little further, you can stay at one of six national forest campgrounds found along the highway 15 to 35 miles east of Yellowstone. Wapiti Campground nestles in a stand of cottonwood and juniper beneath towering cliffs. Big Game Campground is the area's oldest and has generous parking aprons and wild rose bushes between sites, affording plenty of privacy. The campground is an ideal place to view spring wildflowers. Other campgrounds include Elk Fork, Eagle Creek, Clearwater and Newton Creek. The campgrounds have basic amenities and are open from May or June through September.
Where Buffalo Bill Roamed
Buffalo Bill State Park lies 37 miles east of Yellowstone National Park. Two camping areas provide 99 sites, some having electrical and water hookups. Each campground has about six sites designated as tent-only with most of the remaining sites offering pull-through convenience to RVs. Each campsite has a picnic table and grill. There are no shower facilities, but the park provides restrooms and drinking water. Hike into the picturesque surroundings of the Absaroka Mountain range, paddle on the reservoir's glassy surface or angle for Yellowstone cutthroat trout in the lake.
Get Into Town
Enjoy hot showers, flush restrooms and additional recreational amenities at seven private campgrounds in Cody, 50 miles east of Yellowstone National Park. At Cody KOA, you'll find space for everything from a tent to an 80-foot rig, with kid-friendly conveniences including a playground, jumping pillow and game room. Take a dip in the pool, ride a free shuttle to a nightly rodeo or rent a bike and go exploring. Pitch your tent on the grass or park your RV with room for multiple slideouts at Cody Ponderosa Campground. Enjoy hot showers, laundry, an on-site cowboy cappuccino bar and the convenience of in-campground pickup for trolley tours, whitewater rafting excursions and rodeo shuttle.
References
Writer Bio
Indulging her passion for wide open spaces and outdoor fitness through the written word on a full-time basis since 2010, author Jodi Thornton-O'Connell takes the mystery out of outdoor skills and guides readers to discover fun ways to physically connect to natural surroundings.