•••
View Stock/View Stock/Getty Images
With hot summers and mild winters, people can enjoy outdoor activities in or near Houston almost year-round. However, it can get very hot, rainy or the temperature can drop unexpectedly. Camping within a few hours of Houston is an ideal situation for families who might need to suddenly pack it in and head for shelter. Kid-friendly campgrounds must be quiet, offer hot showers and toilets and have safe activities geared toward kids of all ages.
Private Campgrounds
Lake Conroe, roughly 50 miles outside of Houston, sits right in the middle of the Sam Houston National Forest. There are boat ramps, docks and rentals. Fishing, swimming, basketball courts and even putt-putt golf are some things kids can do while also enjoying miles of hiking trails.
Federal Campgrounds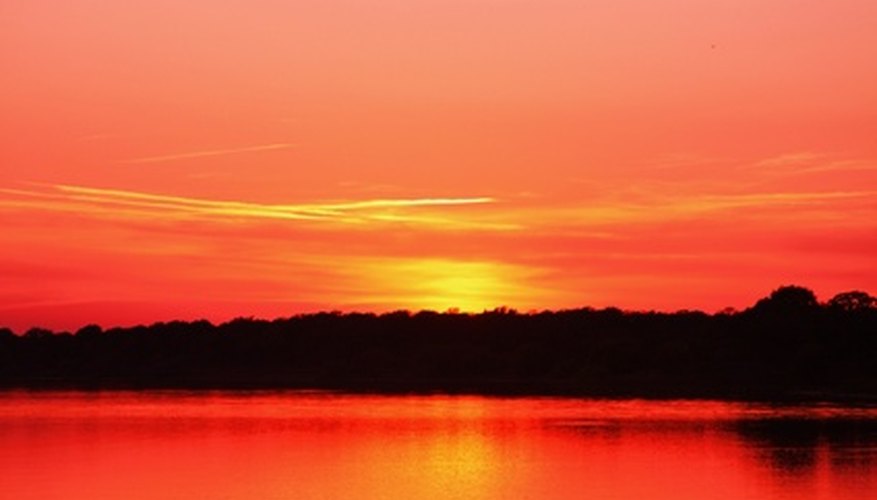 •••
Fiery Sunset Lake Sommerville image by Mz3Silver from Fotolia.com
Also along Lake Conroe are the Cagle and Doublelake recreation areas. The Cagle Recreation Area, Doublefield and Stubble Recreation areas have water sports, equestrian or mountain biking trails and concession stands. Rocky Creek Park, on Lake Sommerville, has boating, fishing and water sports along with a playground.
State Campgrounds
Galveston Island State Park lies right along the beach, not far from Houston. This site has interpretive centers and fishing. Brazos State Park, named a top 10 park in America, boasts a nature center where kids can touch a baby alligator. Huntsville State Park has just about everything, from boating, water sports, biking, hiking and horse trails and a nature center. The state park system has an innovative program called, "Texas Outdoor Families." For a small fee, families can learn everything they need to know to get started camping. They even provide tents and gear.
Indian Reservation Campgrounds
The Alabama Coushatta Indian Reservation, just outside Livingston, is an affordable place to camp. Families not wishing to tent or RV camp can rent one of four available cabins. There is also fishing, kayaking and canoeing rentals.
Warning
Snakes are always a concern when camping. Beach campgrounds will have less of a problem, but come prepared in case of snake bites. Campgrounds close to Houston fill up quickly, so make reservations far in advance. Be sure to heed the campground curfews, which are strictly enforced in kid-friendly camps. This usually means quiet down by 10 p.m.
View Stock/View Stock/Getty Images