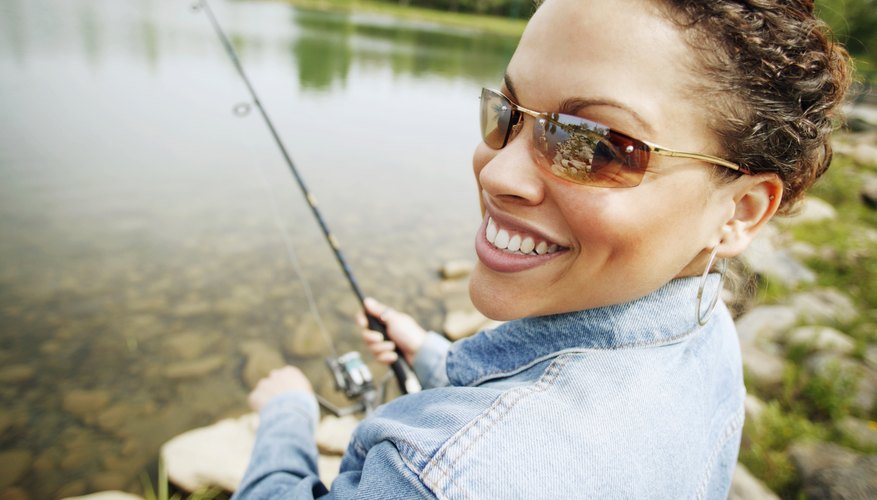 Traditionally, the sweet spot for catching bass is when water temperatures ring in at 60 to 75 degrees Fahrenheit. But that doesn't rule out angling for this prize fish during the warm month of June. Swipe on some sunscreen and switch up your fishing techniques. You can still catch bass in the dog days of summer, but you'll have to change where and when you look for them.
Embrace Your Dark Side
To say cool as the June sun heats up the water, bass will flock to dark, shady locations. One of your best bets is the dock you're standing on. When casting around your dock, focus on the darkest crooks and crannies -- your prize fish could be lurking there. Another good bet is any area along the shoreline where the vegetation stretches into the water. Such weedy areas are prime choices for bass because they provide cooling shade as well as opportunities for the fish to feed.
Set Your Alarm Clock
It's said that the early bird gets the worm. Well, the early angler gets the bass. During June and the other summer months, bass are more active in the early mornings right around sunrise, as well as the late afternoons as the sun sets. During these times, water temperatures drop and the fish spring to life. The fish also usually hustle into action and search for food around noon. While your odds of catching fish right in the middle of the day are lower than the early mornings or late afternoons, these midday catches tend to be larger in size.
Give Them Air to Breathe
Higher water temperatures means there's less oxygen in the water. If your favorite fishing spot has a channel bend where moving water creates ripples and bubbles, cast your bait there. Bass tend to congregate in these spots because there's more oxygen present. For the best results, look for the sharpest bend in the channel.
Turn On Your Night-Light
If you're feeling adventurous, try night fishing. Not only is the water cooler, but there's also less fishing and boating activity on the water so the fish are calmer and more apt to strike. For the best results when night fishing for bass, use dark-colored baits, such as plastic worms or single-bladed spinnerbaits. Also, look for water with high visibility and try to target areas where the water transitions from shallow water to deeper water.
References
Writer Bio
Joshua Duvauchelle is a certified personal trainer and health journalist, relationships expert and gardening specialist. His articles and advice have appeared in dozens of magazines, including exercise workouts in Shape, relationship guides for Alive and lifestyle tips for Lifehacker. In his spare time, he enjoys yoga and urban patio gardening.