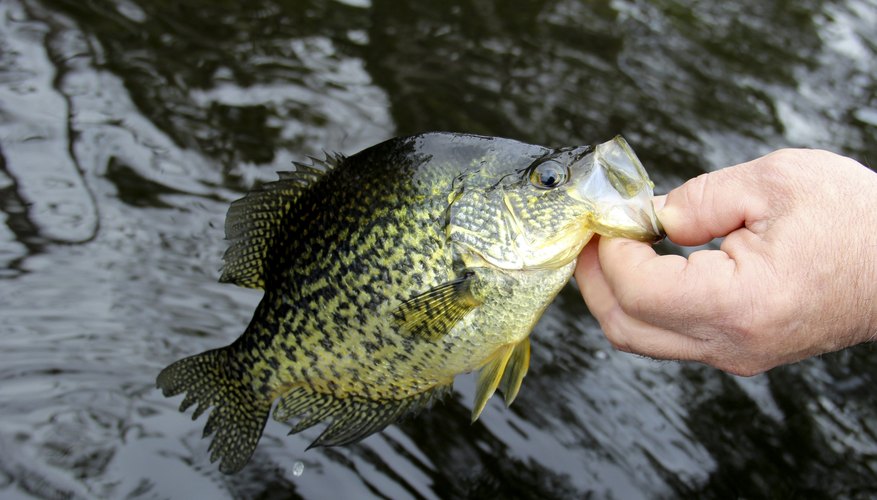 Crappie are among the most abundant and frequently caught game fish in Texas, inhabiting lakes, reservoirs, ponds and slow-moving rivers across the Lone Star State. If you're looking for big crappie, and lots of them, a handful of lakes stand out. The best crappie lakes in Texas have varied habitat, abundant forage and healthy populations of largemouth bass, which keep crappie from overpopulating and becoming stunted.
Lake Livingston
This 90,000-acre reservoir north of Houston is a top crappie fishery in terms of both size and numbers. The best time to catch them is April through June, when big crappies congregate in the lake's creek channels. As Game and Fish Magazine points out, the best creek channels are the deepest ones, with 10 to 15 feet of water, because crappie can stay there longer as the waters warm up. Dozens of marinas and launch sites provide access to Lake Livingston, including a public ramp at Lake Livingston State Park.
Proctor Lake
Less than two hours southwest of Fort Worth, Proctor Lake spans about 4,500 acres, with abundant shad that provide the necessary forage to sustain a healthy crappie population. Live shad and shiners are the bait of choice for local anglers at Proctor Lake, and are often essential for success. Some of the best fishing takes place in the upper part of the lake near the bridge. A launch site is located nearby at Sowell Creek, and a park at the dam includes launch facilities and shore access.
Lake Conroe
Though perhaps more famous for its largemouth bass fishing, Lake Conroe is also an outstanding crappie lake. The key to success at this Houston-area lake is finding brush piles, where crappie congregate throughout most of the year. The most productive brush piles are around 20 feet deep, and sonar is a big help when it comes to finding them on this 20,000-acre lake. Several marinas offer launch facilities on Lake Conroe, and a free ramp is available in Sam Houston National Forest at the north end of the lake.
Granger Lake
Covering 4,000 acres, and less than an hour north of Austin, Granger Lake doesn't get as much attention as some of its peers, which is good news for fishermen in search of crappies. These fish are abundant at Granger Lake, with some of the most consistent action available in spring, when high water floods the timber and fallen trees at the upper and of the lake. Target these areas with 1/16- to 1/8-ounce tube jigs, or try live minnows when all else fails. You can put a boat in the water at several public parks around the lake, including Taylor Park on the lake's upper arm.
Sam Rayburn Reservoir
Some of the biggest crappie in Texas reside in Sam Rayburn Reservoir, a 114,000-acre Jasper County impoundment where 2-pound crappie can almost be called common. Marker buoys point to the locations of brush piles all over Sam Rayburn Reservoir, and casting jigs around these brush piles is one of the surest ways to success. Dozens of parks around the shoreline have boat launch facilities and shore fishing access, including free ramps at Powell Park and Bayou Recreation Area.
References
Resources
Writer Bio
When Richard Corrigan isn't writing about the outdoors, he's probably outside experiencing them firsthand. Since starting out as a writer in 2009, he has written for USA Today, the National Parks Foundation and LIVESTRONG.com, among many others, and enjoys combining his love of writing with his passion for hiking, biking, camping and fishing.