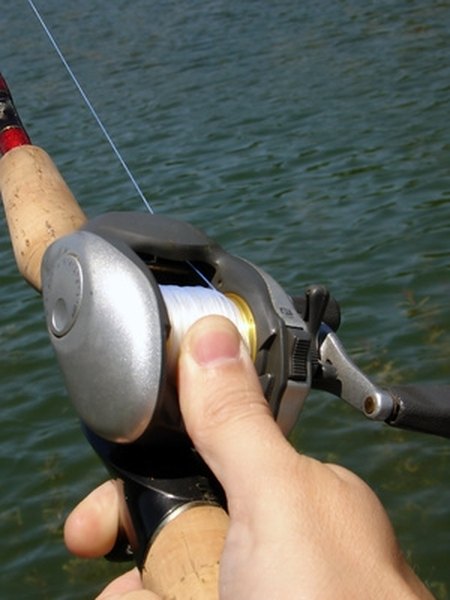 Abu Garcia Black Max reels are low-profile baitcasting reels used to target species like bass, muskies, northern pike and walleyes. Compared with other baitcasting reels, Black Max reels are moderately priced and are good for anglers who want to experiment with fishing a baitcasting reel. Experienced anglers like baitcasting reels because they can be manually adjusted to fit many fishing situations and are especially useful for casting and retrieving, or trolling, with artificial baits.
Items you will need
Fishing rod

Fishing line

Lure
Fill the spool of the Black Max with fishing line. Attach a 1/4-oz. lure to the end of the fishing line.
Set the drag. A star-shaped piece on the handle of the Black Max controls the reel's drag. The drag should be tight enough that it takes a firm, sustained tug before it releases line. Turn the drag clockwise to tighten it; the opposite direction to loosen it. If you hook a big fish and find the drag is too tight, or if you need to tighten the drag, you can adjust it while fighting the fish.
Set the brake system via the dial on the side of the Black Max opposite the handle. Turning the dial clockwise tightens the brake. Turning it counterclockwise loosens it. To determine whether the brake is set properly, press down the reel's thumb bar. The lure should fall to the ground, but the spool should stop spinning once it hits the ground.
Cast the reel. Hold the rod and reel in your dominant hand. Press down on the thumb bar with your thumb, then place your thumb over the line so the spool does not spin. Bring the rod and reel back over your shoulder then forward in a casting motion. Release your thumb from the spool once the rod is past your shoulder. Use your thumb to place pressure on the spool when the lure is about to land in the water.
Spin the handle of the Black Max clockwise to wind your lure back to the boat.
References
Writer Bio
Larry Anderson has been a freelance writer since 2000. He has covered a wide variety of topics, from golf and baseball to hunting and fishing. His work has appeared in numerous print and online publications, including "Fargo Forum" newspaper. Anderson holds a Bachelor of Arts in print journalism from Concordia College.