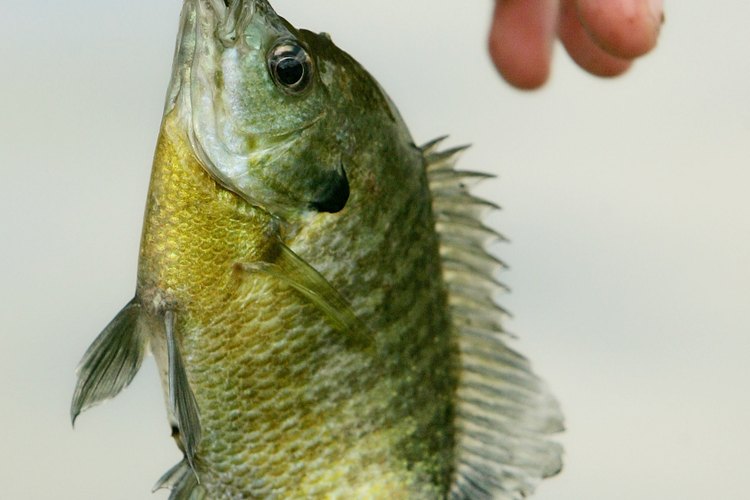 Bluegills are also called bream, perch, sunfish and sunperch. Many novice fishermen begin their angling experience by bank fishing for bluegills and other panfish. They are easy to catch but provide impressive fighting prowess once hooked. Before you can bake, grill or fry these good-tasting fish, you must first learn how to clean them.
Bluegill
Bluegills are caught in ponds, lakes, rivers and reservoirs. They are referred to as panfish because of their small size. Keep them fresh by placing on ice right after catching. Bluegills taste best when cooked fresh; they are low in fat and are a good source protein. Anglers enjoy catching bluegill because of their fighting abilities and good-tasting meat.
Cleaning
The best time to clean bluegill is as soon as you can. After catching or purchasing the fish and taking it home, use a fish scaler to remove the scales. Run the scaler from tail to head until the skin is smooth and all the scales are gone. Wash the fish and remove the head by making an incision at the back of the fish's gills and cutting all the way through. Slice from the back of the bluegill's belly to the vent. Remove all inner cavity and cut off the fish tail and fins. Do a final rinse and store on ice or cook immediately. Use a sharpened knife for best results.
Filleting
Filleting the fish meat is another efficient way of cleaning bluegill. You can store and cook the fish intact, or you can separate the meat and fillet the fish. This depends on your preference and cooking style. To fillet, use the same steps for cleaning in Section 2 and then proceed to cut behind the gill and down to the flank. Hold the fish and slice from the tail fin up to the vent. Press the knife so it cuts down to the fish bone. Run the knife along the backbone starting from the top part of the fish head to the tail. Do the same on the bottom part of the fish to separate the meat from the bone. Rinse the fillets and store or cook as you please.
Tools
Use tools such as a cutting board, fish scaler and a sharp knife when cleaning bluegill. If you do not have a fish scaler, use a dull knife to scrape the scales off the fish body. A cutting board is necessary to protect the surfaces of your counter or tabletop when handling the fish. Use of a sharp knife is very important when cleaning and filleting fish to hold an edge and to make clean, easy cuts.
Photo Credits
Win McNamee/Getty Images News/Getty Images