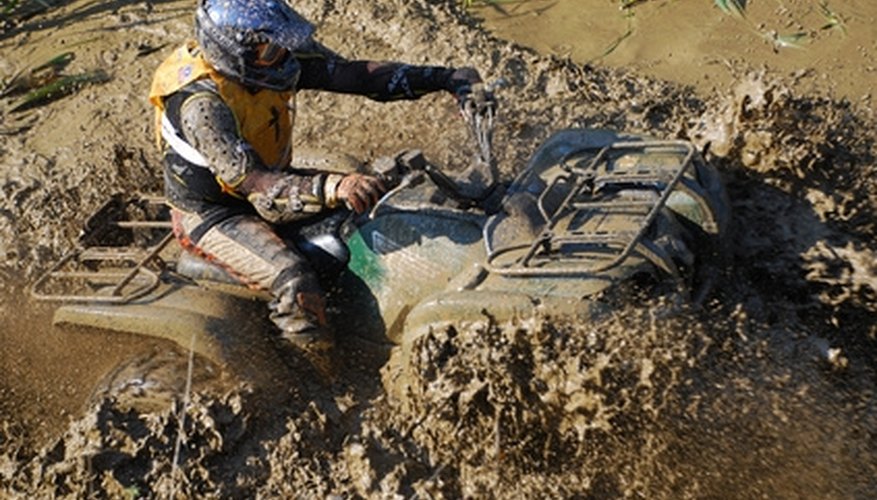 The Suzuki Eiger is a four-wheel drive all-terrain vehicle designed for riders who have experience operating these type of vehicles. The 376 cc SOHC (single over head cam) engine is a four stroke, air-cooled engine that will propel this machine through most trails. The Eiger has front and rear racks where storage containers or other items can be loaded on to the ATV. Like any other vehicle, you can troubleshoot it from home if it is not working correctly.
Items you will need
Spark plug wrench

Battery meter/tester

Wire brush
Turn the ignition and start the Suzuki Eiger. If the engine has difficulty starting or will not start at all, there may be a problem in the electrical or starting system. Remove the spark plug wire from the spark plug and remove the spark plug from the engine using a spark plug wrench. You can replace the spark plug or use a wire brush and gap tool to clean and re-gap the spark plug.
Insert and tighten the spark plug, reattach the spark plug wire and try to restart the engine.
Remove the battery cables from the battery and attach a battery meter to the battery. Observe the amount of charge the battery is holding and if the meter has a test feature, test the battery to see if it will dispense the correct amount of power. Clean the battery contacts with a wire brush and reconnect the battery cables.
Check the oil, gas, transmission and brake fluid levels on the Suzuki Eiger. If there is not enough gas in the ATV, it will not start. Checking the fluids regularly to see if there are any leaks or if any of the fluids are dangerously low. Top up any fluids that may be low before you use the ATV.
Adjust the fuel idle mixture screw on the Suzuki Eiger's carburetor if the engine is running rough. Inspect the air intake and exhaust pipe for the Suzuki Eiger. Any blockage in or on these components can affect engine performance.
References
Writer Bio
Since 2002 Mark Spowart has been working as a freelance writer and photographer in London, Canada. He has publication credits for writing and/or photography in Canada, The United States, Europe and Norway, with such titles as "The Globe & Mail," "The National Post," Canada News Wire, Sun Media and "Business Edge" magazine.