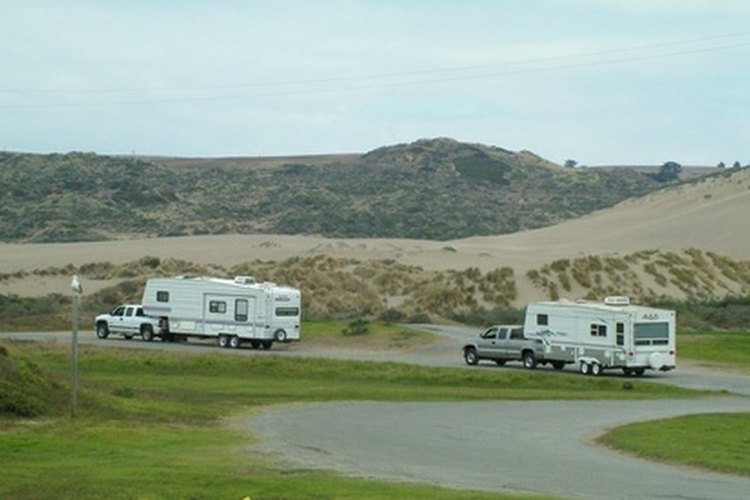 An RV, or recreational vehicle, can be a tow-able or motorized vehicle combining transportation and a temporary living space. Used for traveling, camping and recreational purposes, the RV is available in a wide variety of types and styles. This includes the Class A motor home often referred to as the conventional motor home; it is the largest and most luxurious motorized home. Your needs may be better suited to a Class C motor home, also known as a mini-motor home, or a truck camper or a pop-up camper. Before buying an RV consider the type of travel experience you want to enjoy.
How It Will Be Used
If you are planning to travel full time, a larger and more fully equipped RV will provide more comfort. Traveling with family and friends will play a role in choosing size. Size will also depend on where you want to take your RV. A smaller RV is best for traveling on back roads and out-of-the-way places. If national parks are your destination, check on RV size restrictions. A self-propelled RV offers maneuverability and the option of towing a separate vehicle. However, a towed RV lets you unhitch the towing vehicle, allowing you to travel without the RV, and allows for easy storage when you are not using it.
Shopping Around
Visit RV shows and dealerships where you will see a variety of sizes, shapes and prices. Join RV clubs and read all the publications. Visit a local library or bookstore to obtain a guide. Check forums on the Internet to read what others are saying about buying an RV.
Inspecting
When you decide on the type of RV, do an initial inspection. Spend time in the vehicle to determine if there is enough room. In a large RV, check if the bathroom and shower are spacious enough. Whether you are buying new or used, the RV Sales website recommends requesting to spend a night in the motor home you may buy to try out every feature. Before purchasing, be sure the RV has been inspected by a qualified RV service dealer. Some sellers have the inspection done before a sale.
Renting
Renting before buying is an option to help determine if a particular RV is what you really want. There are more than 460 RV rental outlets across the U.S., according to the Recreation Vehicle Industry Association (RVIA) website. The RV rental business is a $350 million dollar industry and growing, as of 2010. Renting will acquaint you with the cost of fuel, driving an RV and the additional expenses of taking the RV on the road.
New or Used?
A new RV can depreciate by as much as one-third over the first three years, according to RV Sales. Buying a used RV allows a first-time buyer to learn what features are desirable, as well as how often you will actually use the RV. You can purchase a used Class A motor home for the same amount of money as a new Class C. After owning a used RV, if you decide on purchasing a new model, you will have some trade-in value with your used RV.