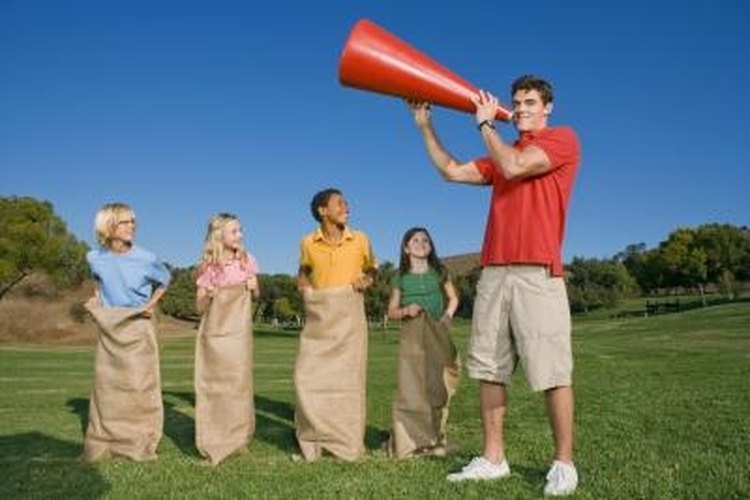 Summer day camps are full of adventure and activities that entertain your kids and keep them moving. Incorporating ideas such as cruise ship, movie, sports or holiday themes into their summer camp activities allows them to get out of their everyday routines and show their creative sides.
Cruise Ship
Turn your summer camp adventure into the ultimate cruise ship. Instead of normal camp, designate an assigned area for the boat. Decorate the area to resemble a real cruise ship. Take turns allowing each group to enjoy the activities aboard the ship such as starboard bowling or port side miniature golf. After they have finished their activities, let them roam the ship and give them free time to relax. You can also have kids dress in Hawaiian clothing to go along with the theme.
Baryard Fun
Have the kids dress up as farmers for the day and tend to the pretend farm. Make an area where the chickens laid eggs and have the kids collect them. Then have them pretend to milk the cows by squirting milk into a bucket. Once the end of the day has come and the work is done, have the farmers sit down to a hearty breakfast.
Movie Time
Not only do kids like to go to the movies, but some also like to produce movies. During this summer camp activity, have the kids dress like movie stars and direct their own film. Have each group of kids come up with a movie to perform and then record. At the end of the day, gather all the groups together, give them some fresh popcorn and let them watch what the other groups have done.
Holiday Celebration
Give the campers a treat by dedicating a day just for holidays. Let the kids dress up for any holiday they prefer. Transform each room at camp to a different holiday theme. In one room have a Christmas tree with small presents for the kids to exchange, for example. In another room set up an Easter egg hunt so they can look for eggs. The kids can even celebrate the New Year all over again by watching the ball drop and dancing to music. As the day draws to a close, have the kids sit down to a nice Thanksgiving meal.
Sports Day
Bring the camp outdoors and set up areas where different sports are played. Introduce the kids to each sport by showing them how its played and letting them try it out. Once they have gone through all the sports, give them some free time to choose the one they prefer to play.
Photo Credits
Jupiterimages/Creatas/Getty Images