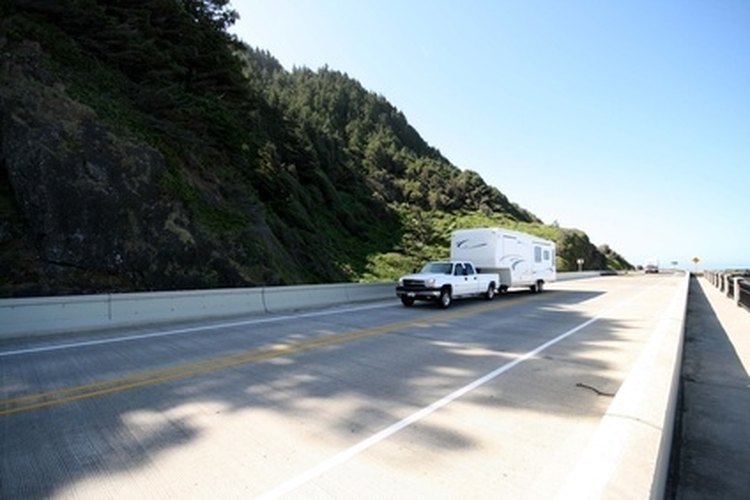 The 1995 19-foot Cobra Sierra travel trailer has all of the features found in a top-of-the-line camper. The travel trailer is a moderate length camper that can be pulled by most small trucks and utility vehicles. The interior is built to sleep multiple people and it is fully self contained. It is difficult to find these campers for sale but they do retain some value if the overall condition is good.
Weight
The trailer weighs less than 3,500 lbs. dry. The total towing weight depends on the cargo and level of the water tank. The weight is distributed over two axles. The camper has space for a generator and it is wired for campground power. The battery bank is charged by the alternator when driving, by the power hookup at campgrounds and by the generator during remote camping trips.
Construction
The camper is enclosed with metal siding. The interior is wood framed and wired for electricity and plumbing as it is fully self contained. There is an auxiliary battery bank for remote camping and 30-amp power for campground hookups. It also has hookups for water and plumbing. There is also overhead lighting throughout the camper. All of the cabinetry is finished wood. The bed and couch is also finished wood.
Floor Plan
The camper has a bedroom in the back with a closet, nightstand and dresser. There is a bathroom with a sink, toilet and shower and a kitchen with a range, oven and refrigerator. The kitchen also has the option for a microwave and a dishwasher although the dishwasher does reduce the amount of cabinet space. There is also a table with booth-style seating in the kitchen area. The living area has a couch and the option for an entertainment center. There is storage beneath the couch and the kitchen seating. The couch and kitchen seating both turn into beds for extra sleeping options.