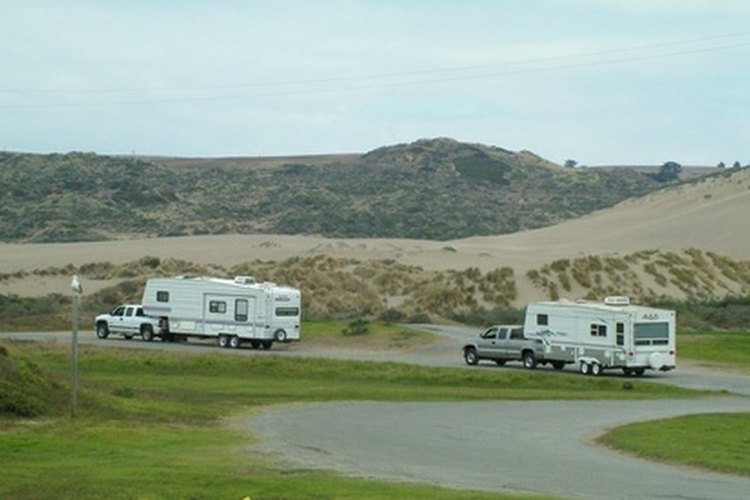 You can quickly sell your recreational vehicle (RV) yourself or you can let an RV dealership sell it for you for a fee. The advantage of selling it yourself is saving money that you would otherwise be paying to a dealership in the form of a commission. The advantage of selling your RV to a dealership, either outright or on a sales commission basis, is that the dealership will handle the details of the sale, and they can offer prospective buyers financing, trade-ins and other perks such as free roadside service for six months, which may attract more customers.
Selling It Yourself
Set the price of your RV, depending upon its overall condition, age and special features, higher than the wholesale value but lower than the NADA retail price. Log onto nadaguides.com (the used car guides published by the National Automobile Dealers Association) and kkb.com (Official Kelley Blue Book online for new and used cars price guide) to determine the wholesale value, the lowest price and the highest retail price for your RV.

Clean and repair your RV inside and out to the best of your ability. Park it with a for-sale sign on all sides of it in a high-volume-traffic area where it will be seen by lots of people. Be sure to include your contact information in bold, large, legible writing that is easily read and understood. Tie colorful helium balloons to your RV to draw increased attention to it from passersby.

Place multiple free classified ads for your RV on websites such as craigslist.org; nwsource.com; and kaango.com. Write a short, detailed description of the main features of your RV including year, make, model, mileage, appliances and any other special features that may add to its appeal. Be sure to include quality digital photos of the interior and exterior of your RV in your ads. Include your contact information and the sale price or trade offered.

Have the title to your RV clean and ready. If you are making loan payments on it, you will need to have the paperwork completed by an escrow company.

Relinquish possession of your RV only after you have been paid in full and the funds have been verified as genuine by your bank. It is advisable to accept cash only as there is less chance of a complication later. Do not accept partial payment or a promise to pay later because your RV could be damaged beyond repair in the interim.

After you receive payment in full and it has been verified by your bank, transfer the title to the new owner by signing and dating it in the indicated section of the title. Submit a release of liability notice to the DMV (Department of Motor Vehicles) at once so that you will not be held liable when the new buyer drives away with it.
Let a Dealership Sell It for You
Sell your RV outright to an RV dealership by contacting an RV dealership like sellmyrvfast.com. Answer some basic questions about your RV, and upload photographs featuring the interior and exterior of your RV. The dealership will process your information and call you back with an offer to buy your RV outright, saving you the time of having to sell it yourself.

If you don't have computer access, you can call:

Sell My RV Fast 619-456-9880

Consign your RV to an RV lot or let an online dealership like rvsearch.com market it for you for a fee. This dealership guarantees that they will sell your RV in six months or less, or they will refund you the initial $149 listing fee. The benefits of this strategy also include six months of free road service from the Good Sam Club to the buyer. It also includes networking your ad on affiliated RV sites like TrailerLifeDirectory.com; RV.net; TrailerLife.com; MotorhomeMagazine.com; and RVBG.com. It also features 12 photos of your RV and floor plan.

If you do not have a digital camera or scanner, you can place your ad with rvsearch.com by printing out the online order form and mailing it with printed photographs (see Reference section).
Items you will need
Quality photographs of your RV