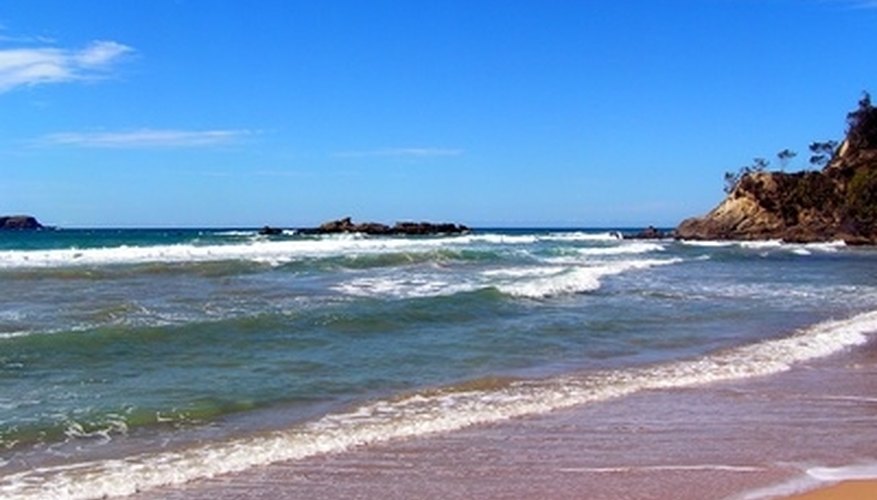 Florida's Gulf Coast begins at the northern part of the state near Perdido and runs all the way past Naples to the south. RV campers have numerous options for camping on the Gulf Coast, but Florida's state parks offer facilities that are clean and consistent. Camping at one of the state parks along Florida's Gulf Coast requires advance reservations because many parks fill up more than six months in advance.
Northwest Gulf Coast Region
The Northwest Gulf Coast Region of Florida includes cities on the beach such as Pensacola, Destin, Fort Walton and Navarre Beach. While there are many private RV parks in this region of Florida's Gulf Coast, the state parks that are available offer consistent amenities. The Northwest Gulf Coast Region of Florida offers 10 state parks that are situated on or very near the beaches that stretch from Pensacola to St. George Island. Some of the most popular of these state parks are Perdido Key, Henderson Beach, Topsail Hill, Grayton Beach and St. George Island. Most of Florida's state parks offer walking and biking trails, nature centers and bath and shower facilities.
West Central Region
The West Central Region of the Florida Gulf Coast is comprised of cities such as Clearwater, Tampa, St. Petersburg, Madeira Beach and Treasure Island. This region of Florida's Gulf Coast features nine state parks that offer RV camping on or near the beaches. State parks in this region range from Spring Hill in the northern part to Osprey in the southern section. The state parks in the West Central Region include some of the most distinctive names campers will find, including Honeymoon Island, Cockroach Bay and Weeki Wachee Springs.
Southwest Region
Cities in the Southwest Region of Florida's Gulf Coast include Fort Myers, Sanibel Island, Naples and Marco Island. There are 11 state parks in this region that offer camping near the beach, from Stump Pass Beach in Englewood to Collier-Seminole in Naples. Several of the state parks in this region are accessible only by private boats or by ferry, but they offer campers the chance to see marine animals such as manatees and dolphins.
Weather
RV camping along Florida's Gulf Coast brings warm weather that can also be wet. It is not uncommon for there to be daily pop-up showers during the spring and summer months. These showers often last for only a few minutes, but they can create challenges for RV campers who are not prepared. The Gulf Coast of Florida receives an average of 54 inches of rain each year, with more than half of that falling from May through October. Camping during these months requires some rain gear and umbrellas.
Attractions
If the white beaches along Florida's Gulf Coast are not enough for RV campers, there are a variety of other attractions. In the Northwest Region, the National Naval Aviation Museum in Pensacola is a popular destination. The West Central Region includes attractions such as Tampa's Busch Gardens and the Salvador Dali Museum in St. Petersburg. Visitors to Florida's Southwest Region might want to see the Caribbean Gardens in Naples and the Thomas Edison and Henry Ford Winter Estates in Fort Myers.
References
Writer Bio
Jeff Dickinson has been writing professionally for 19 years. He began covering sports for The Huntsville Times in Alabama and moved to Atlanta in 1997. Dickinson worked in corporate communications for seven years before beginning his freelance career in 2005. He covers football for the Marietta Daily Journal and FANatic Sports and writes for a variety of websites.