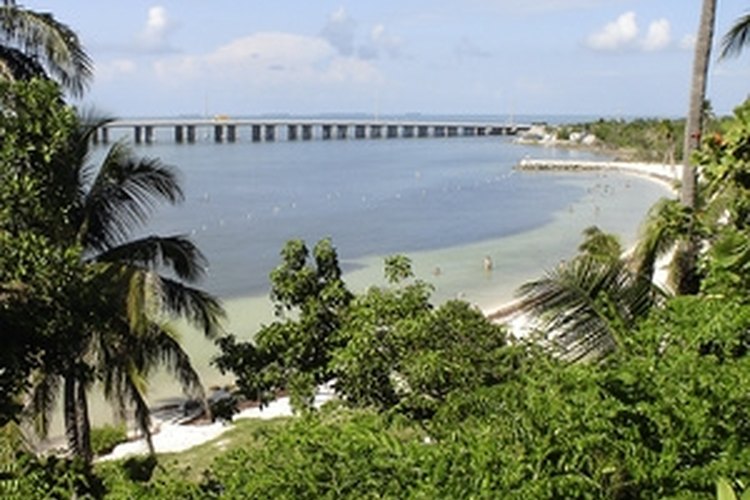 The Florida Keys are a popular vacation destination because of their warm weather and numerous recreational activities. These include snorkeling, boating, swimming and fishing on both the Atlantic Ocean and Gulf of Mexico sides of the Keys. RV parks throughout the Keys usually have their own boat docks and ramps.
Bluewater Key RV Resort
Ten miles from the famous resort town of Key West, the Bluewater Key RV Resort has RV sites that are all privately owned. When the owners are away, however, the sites are available for rent. The sites each have their own characteristics, but they are all landscaped with plants and trees and average between 30 to 35 feet wide and 70 to 80 feet deep. They are all full-ups with electric of either 30 or 50 amps and come with cable TV, WiFi access, tiki huts and picnic tables. The sites also have decks and docks. Situated on the southern side of Route 1 in the Saddlebunch Keys, the resort has a swimming pool, a large clubhouse, laundry facilities, restrooms, showers, a lounge with TV, a security gate and horseshoe pits. It also has a picnic area along a canal and a boat launch. Guests can fish and swim off the private docks.
Bluewater Key RV Resort
2950 U.S. Highway 1
Key West FL 33040
305-745-2494
bluewaterkey.com
Grassy Key RV Park & Resort
The Grassy Key RV Park & Resort can be found in the center of the Florida Keys in Marathon. All of its sites come with water, sewer and electric service of either 30 or 50 amps. The resort has sites that can accommodate RVs of any size. Offering views of the sunsets on the Gulf of Mexico, Grassy Key's recreational facilities include a swimming pool, boat docks, a swimming beach with white sand, a clubhouse, horseshoe pits and a picnic pavilion. Additional amenities include surveillance cameras, restrooms, showers, laundry rooms and a store that sells gifts and suntanning supplies. Free Internet access is available on a property that holds planned activities such as bingo, movie and poker nights. The Grassy Key RV Park & Resort was completely renovated in 2009.
Grassy Key RV Park & Resort
58671 Overseas Highway
Marathon, FL 33050
305-289-1606
grassykeyrvpark.com
Bluefin Rock Harbor Marina & RV Park
The Bluefin Rock Harbor Marina & RV Park, situated in the northern part of the Keys in Key Largo, is along the Atlantic Ocean and in the southern end of the John Pennekamp State Park. The RV sites, some of which have oceanfront locations, all come with cable TV, 30- or 50-amp electric service, purified water and sewer connections. Amenities on the property include a laundry room, bathrooms, showers, telephone connectors for long-term campers, a boat ramp and night security. The sites can accommodate RVs up to 40 feet. Bluefin Rock Harbor's Marina has 25 boat slips that are equipped with full electric, water and cable TV. Snorkeling and scuba diving opportunities are available at the nearby Pennekamp and Molasses reefs.
Bluefin Rock Harbor Marina & RV Park
36 E. Second Street
Key Largo FL 33037
800-350-6572
milemarker97.com
Photo Credits
Florida Keys Beach Bridge in Background image by pelvee from Fotolia.com