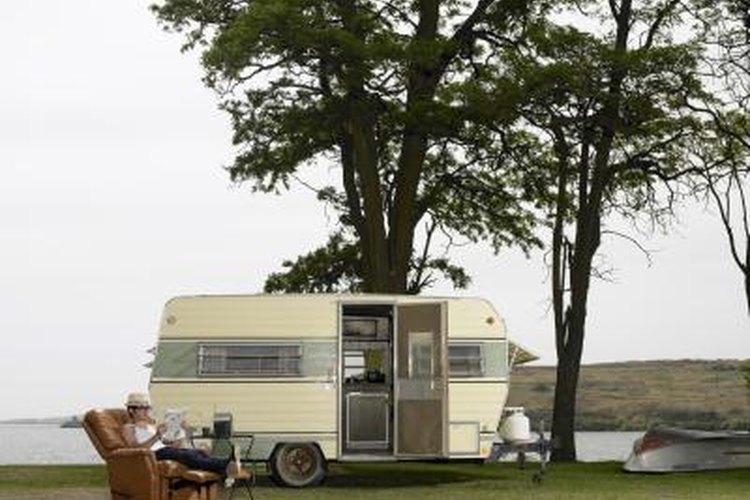 The layout of a travel trailer is practical, putting as much living and storage space as possible in a small area. Too often the decor in travel trailers is calculated to appeal to a target audience that prefers floral patterns and frills. While you shouldn't do anything to compromise the structural integrity of the trailer, there's no reason it can't be tastefully decorated.
Paint your cabinetry. Almost all travel trailers use wood veneer. Scuff the veneer with sandpaper and paint it a color that complements your new decor.

Make a dramatic change by sewing solid color curtains, or curtains with a bold vertical design. This creates the illusion of height and space.

Use the same fabric on your cushions as on your curtains. This unifies the space. Add complementary throw pillows that brighten the area and add comfort to banquettes and sofas that are frequently uncomfortable.

Upgrade the microwave to a microwave/convection oven combination. You'll increase your cooking options without taking space away.

Consider removing a built-in table and replacing it with a folding table and chairs that can be used both inside and outside, and can be stowed away to create more room in the living space.

Convert a bunk room into an office. Take out the bunks but leave the wall that separates the bunk room from the rest of the living space. Build in a desk and purchase a chair that can be stowed when you're towing. Consult your trailer's manufacturer to make sure removing the bunks won't compromise the integrity of your trailer.

Scatter colorful throw rugs to break up the solid color of the carpet and create visual cues that indicate living, dining and sleeping areas are separate.

Add an awning to increase your living space. Awnings roll tightly against the body of the trailer when they're not in use. They can be mechanical or automatic and create shade and a covered area for dining. Some awnings can be enclosed to create a screen room.

Add usefulness to a bedroom by removing built-in bedside tables and replacing them with floor to ceiling shelving. Consider removing the closet from the bedroom to add space. Stow your clothes in the drawers under the bed.
Items you will need
Paint
Fabric
Pillows
Convection oven
Awning
Tip
Use lightweight materials that won't add weight to the trailer.
Warning
Room dividers shouldn't be removed without first checking with the manufacturer.
Photo Credits
Andy Reynolds/Lifesize/Getty Images