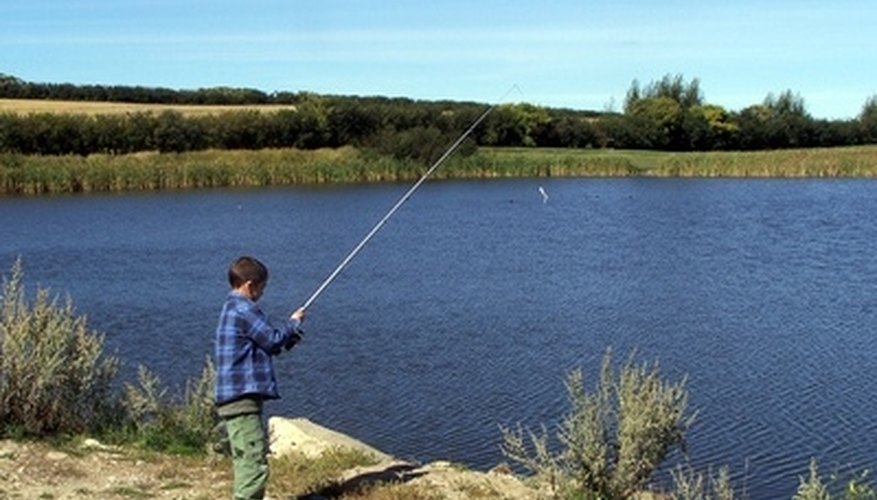 Highlighted by Outdoor Canada as one of the "Best Darn Places an Angler Can Call Home," Peterborough has many fishing opportunities to offer. Located in Southern Ontario, Peterborough is close to the Kawartha Lakes district, which includes more than 130 lakes. Approximately 87 miles (140 km) from Toronto, Peterborough is a town devoted to fishing, as well as home to the headquarters of Shimano Canada and the Canadian National Sportfishing Foundation.
Gateway to the Kawarthas
The nearby Kawartha Lakes offer a chance for angling both for warm- and cold-water fish. A tremendous variety of fish includes large and smallmouth bass, brown and lake trout, carp, steelhead, brook and walleye. Different lakes in the Kawarthas offer varying species. Pigeon, Buckhorn and Chemong (known as the tri-lakes) are minutes from Peterborough and well-known for their bass. For panfish, head south from Peterborough to Rice Lake, where there the perch and black crappie are plentiful. The clarity of the Kawartha Lakes waters allows "follows" to be spotted early on. Esox angling is popular, with plenty of muskies throughout the Kawartha lakes. Bass fishing tournaments are held regularly throughout season.
The Ganaraska
If cold-water fishing interests you, head southwest from Peterborough to the Ganaraska River. The "Ganny" is highly regarded for having many steelhead, chinook salmon and, at its upper end, enormous browns. The fall brings large migrations of chinook salmon and lake trout. The Ganaraska flows south into Lake Ontario, winding through the town of Port Hope, about an hour's drive from Peterborough.
Accommodations in Peterborough
With a population just more than 100,000, Peterborough offers plentiful options for lodging either within the city or at a rural spot closer to the lakes and rivers. The Peterborough and Kawarthas Tourism Board offers listings of accommodations, including bed & breakfasts, campgrounds, resorts and cottages: www.thekawarthas.net/tourism.php?section=dine-and-stay.
The Kawarthas Fishing website operates another directory of fishing cottages and lodges, organized by lake: http://www.kawarthasfishing.com/directory/Resorts_and_Cottages/
References
Writer Bio
Danielle Hill has been writing, editing and translating since 2005. She has contributed to "Globe Pequot" Barcelona travel guide, "Gulfshore Business Magazine," "Connecting Lines: New Poetry from Mexico" and "The Barcelona Review." She has trained in neuro-linguistic programming and holds a Bachelor of Arts in comparative literature and literary translation from Brown University.