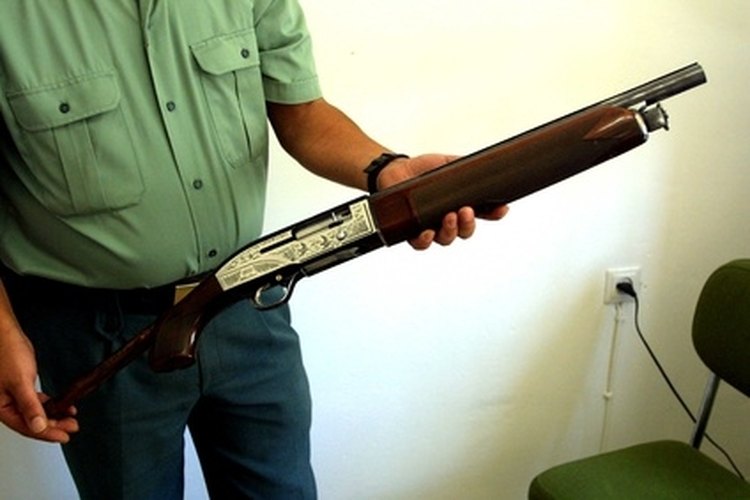 The Model 48 "Sportsman" is an autoloading shotgun that was manufactured by Remington Arms. First introduced in 1948, the Model 48 Sportsman was a variant of Remington's Model 11-48 shotgun. The major difference between the two firearms was their magazine capacities. While the 11-48 featured a three-shot magazine, the Model 48 Sportsman was produced with a two-shot magazine in order to comply with hunting regulations in a number of U.S. states. Production of the Model 48 Sportsman ceased in 1968. Because it's an older firearm, few aftermarket modifications are available for the Model 48. Nevertheless, a couple of simple modifications can make your Model 48 easier to both shoot and carry.
Attach a Shoulder Sling
Mount your Model 48 into a padded gun vise with the bottom of the stock facing up.

Measure and mark the mounting points for your screw-in sling swivels. The rear mounting point should be marked in the center of the stock, 1 1/2 inches from the butt of the shotgun. The front mounting point should be marked in the center of the stock, 1 inch back from the metal cap on the forestock.

Drill pilot holes for the screw-in swivels. Use a drill bit that's 1/16-inch narrower than the width of the mounting screws. Drill pilot holes at both marked locations, to a depth of 1/4 inch. Use caution and do not drill too deeply through the forestock in order to avoid impinging on the shotgun's tubular magazine.

Screw both sling swivels into the pilot holes using your Phillips head screwdriver.

Attach the sling's webbing to the swivels. Adjust the sling to a length that will give you a comfortable carry when the firearm is slung over your shoulder.
Add a Recoil Pad to the Stock
Mount your Model 48 into a padded gun vise with the top of the stock facing up. Place the firearm in the vise with the barrel angled down slightly in order to provide easy access to the butt plate.

Remove the butt plate. Use your flat head screwdriver to remove the mounting screws, but keep the screws handy for attaching the recoil pad. Set aside the factory butt plate for safe-keeping. You may want to replace it in the future to restore your shotgun to "original" condition.

Center the recoil pad over the mounting holes in the butt end of the stock. Attach the recoil pad by screwing in the butt plate screws with your flathead screwdriver.
Items you will need
Padded gun vise
Measuring tape or ruler
Carpenter's pencil
Power drill
Shotgun sling with screw-in swivel mounts
Phillips screwdriver
Flathead screwdriver
Recoil pad (pads manufactured for Remington 1100 will fit)
Warning
Before working on your shotgun, check both the chamber and the magazine to ensure that the weapon is not loaded. Never work on a loaded firearm.