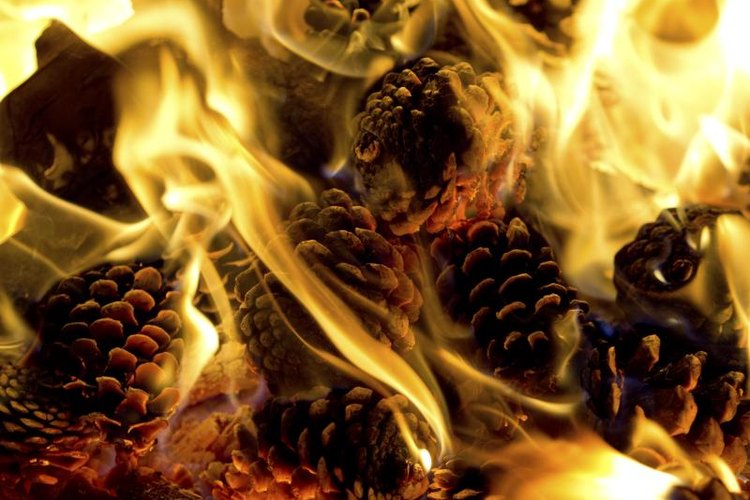 Pine cone fire starters are a great way to start campfires, and it is easy to make them by attaching a string to the cone and covering the cone in wax. You will need a digital meat thermometer to monitor the temperature of the wax, some waxed paper and a double broiler. Hot wax is potentially dangerous and it is flammable, so have a fire extinguisher on hand when you begin the task.
Picking the Pine Cones
Get off to a good start by collecting good pine cones. Select mature cones with spread scales, rather than young cones that have yet to open, as mature cones hold wax better. Almost any species of pine cone will work, although cones from white pines and sugar pines are among the best choices. Backpackers should consider using small pine cones, which will take up less space than large cones.
Where to Get Wax
The easiest source for wax is a candle, but acceptable alternatives include soy wax and paraffin wax. You can use any color you like, or you can mix old crayons in with the wax to add color. Scented candles are acceptable, but consider the application – you do not want to use bacon-scented fire starters in bear country.
Double Broiling
You must melt wax very gently and carefully, and monitor its temperature with the thermometer. Use a double broiler to melt the wax, or make your own by placing a metal coffee can inside a larger saucepan that is full of water. Place the candle or wax in the coffee can or broiler and heat the water until the wax is approximately 170 degrees Fahrenheit. Remove the double broiler from the heat once the wax reaches this temperature and let it begin to cool.
Wick It and Dip It
While waiting for the wax to cool, tie a length of string to the top of the pine cone. This will serve as a handle for the dipping process, and a wick once it is complete. Once the wax has cooled to about 130 degrees F, dip the pine cone in it. Slowly pull it back out of the wax and allow the excess to drip back into the can. Place the pine cone on a piece of waxed paper to cool. Allow the wax to continue to cool to about 105 degrees, and dip the cone in a second time. Once the wax has cooled completely, cut the string off about one-quarter inch from the pine cone to make the wick.
Photo Credits
RAFKER/iStock/Getty Images