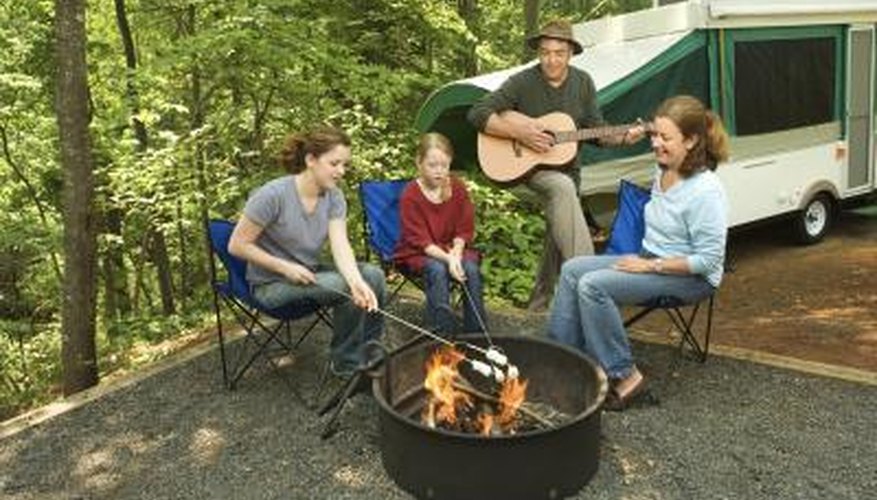 Mold is a common problem in campers, especially pop-up campers exposed to moisture that remains trapped inside once the camper is packed away. Taking care of mold problems will prevent permanent damage to the camper as well as such health problems as sneezing, coughing and asthma.
Exterior Cleaning
Park your camper in direct sunlight and open it completely. Sunlight inhibits further mold growth and kills live spores. Scrub the canvas with a stiff bristled brush to remove as much mold as possible.
Make a solution of equal parts water and rubbing alcohol or vinegar, or two teaspoons of tea tree oil and two cups of water. Spray the solution onto the canvas and wipe it with a damp cloth. Avoid bleach and chemicals as they may strip away the canvas sealant.
Interior Cleaning
Create a solution of one cup of bleach mixed with four cups of water and spray it on the floors and countertops, taking care not to spray upholstery or carpets. Rinse surfaces with water and dry with a clean towel.
Put removable seat covers and curtains in a washing machine with a half-cup of Borax dissolved in three or four cups of hot water along with your usual detergent and cold water. Allow the items to soak for about 20 minutes before starting the wash cycle.
For cushions and non-removable seat covers, combine 1 teaspoon of dishwashing liquid, 1 teaspoon of Borax and 1 quart of water. Spray both sides of the cushions and scrub with a soft-bristled brush or a clean toothbrush.
References
Writer Bio
Karen Spaeder began her editorial career at Entrepreneur magazine. True to the entrepreneurial spirit, she works at a startup digital marketing firm, blogs at karenspaeder.com, teaches yoga and runs her own organic beauty business. Spaeder holds degrees in English and certifications in yoga, karate and early childhood education.