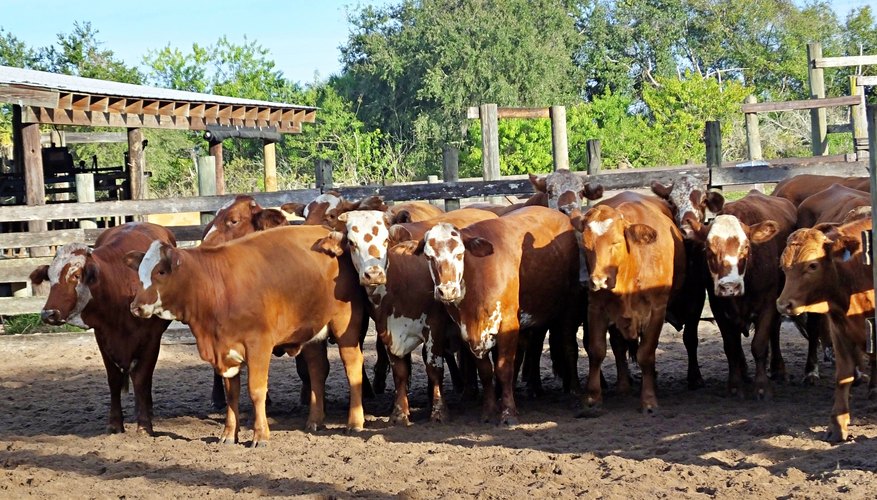 The county clerk in each Texas county maintains the cattle brand registries. It costs $5.00 to register a brand for a ten-year period, and once expired, the brand must be renewed for the same fee. In Texas, brands on cattle are required, and all cattle must be branded before they are one year old. The clerk records the brand's design, its registration date, and location of the mark on the animal. Once registered, the brand owner has the exclusive rights to the use of the brand in Texas, and the brand indicates legal ownership of the cattle.
Application for Registration
According to the Agricultural Code of Texas, take the following steps to apply for brand registration.

Write an application that includes the following information: 1. Your address 2. Your citizenship 3. The location of your livestock 4. Kinds of livestock 5. Location on the animal where it will be marked by the brand. 6. Signed drawing of the brand design. 7. Your signature

Comply with any additional requirements dictated by the county clerk or the director of public safety . Supply as many copies as needed.

Turn in the application to the county clerk with the $5.00 fee.
Application Review Process
The county clerk will send your application to the director of the department of public safety, who reviews the application.

An inspector may be sent to look over your animals and livestock facilities.

When the director finds your application satisfactory, he will issue a certificate of registration. A copy of the certificate is kept by the county clerk, who also sends a copy to the Texas and Southwestern Cattle Raisers Association for their records.

Your brand must be registered in all counties in which your cattle live.

It is illegal to brand your cattle with another person's registered brand.
References
Writer Bio
Sarah Proctor began writing in the professional sphere in 2010. She earned a Bachelor of Arts degree in art history at Williams College, where much of her studies focused on the development her research and writing skills.