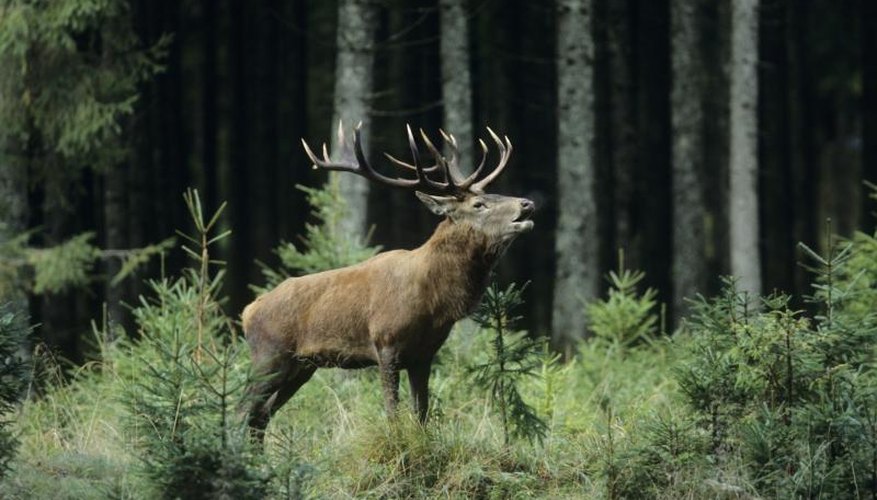 Hunters from all over the country flock to Oregon -- one of the premiere elk hunting regions in the United States. The general elk hunting season begins in October and the rugged terrain is home to two types of elk, Rocky Mountain and Roosevelt. This doesn't mean you'll have an easy hunt. Elk are highly evasive due to adapted senses, making them a challenging game animal to hunt. If you're new to elk hunting, consider enlisting the help of one of Oregon's hunting guides to increase your chances for success.
Siuslaw National Forest
Field and Stream magazine named Siuslaw National Forest one of the country's top 10 public lands to hunt for elk. It extends more than 600,000 acres along the Oregon Coast. The weather in this region is unpredictable and it's known for notorious rain showers. Hunters who are patient, stealthy and determined, will likely have success in good spots like the Siuslaw and Alsea units. Prepare to brave the elements and hunt in less than ideal conditions.
Umpqua National Forest
One of destinations at the top of many elk hunter's lists is Umpqua National Forest -- a sprawling area of public land covering almost 1 million acres. It's home to an abundance of wildlife, including elk and is well-known for its trout fishing rivers. Here you'll find a large elk population offering good hunting opportunities. Keep in mind that the Umpqua is a diverse habitat with very dense vegetation.
Umatilla National Forest
If you plan to head to the Eastern part of the state, plenty of big game opportunities await you in Umatilla National Forest. In fact, Umatilla's Rocky Mountain Elk herd is one of the country's largest to inhabit a national forest. Umatilla National Forest encompasses 1.4 million acres of land in the Blue Mountains in Oregon and Washington. The terrain is mountainous, with elevations ranging between 1,600 to 8,000 feet above sea level. Good hunting units include Walla Walla, Mt. Emily and Desolation.
Mount Hood National Forest
Mount Hood is located in the northern part of Oregon's Cascade Mountains, which provide an excellent habitat for trophy elk. The weather in this region is less volatile than other areas, so hunting conditions are better. In addition, it snows frequently in the winter, making it easier to spot elk than in other areas. Mount Hood National Forest spans more than 300,000 acres, much of it densely forested wilderness. To hunt in this area requires good physical conditioning.
References
Writer Bio
Ainsley Whitley is a contributing writer for various branded properties that together attract more than 280 million readers seeking influential content. Whitley's articles have appeared in various print and online magazines, including "GQ," "Details," "Southern Living" and "Cooking Light."