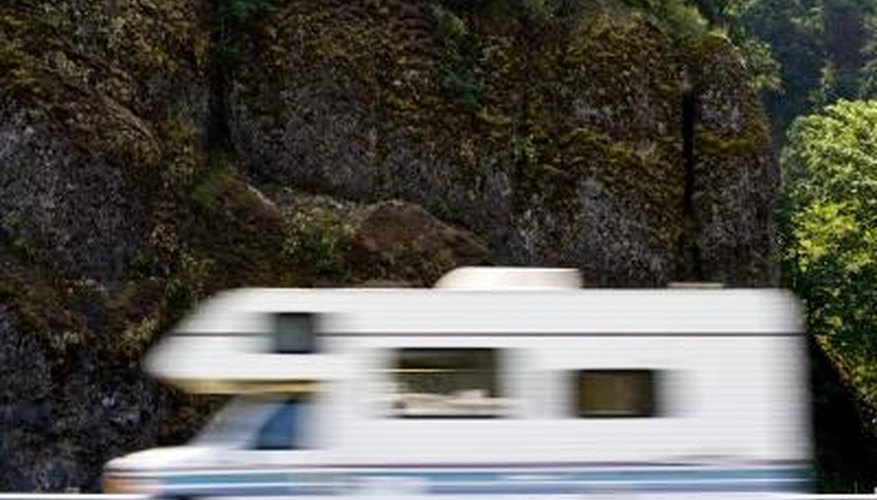 Larger than the Class B and smaller than the bus-style Class A's, Class C's have full living accommodations. Pulled by large displacement V-8 and sometimes V-10 engines, they are heavy vehicles. Typical models get 7 mpg to 8 mpg---some as few as 4 mpg! Good gas mileage for Class C's is anything more than 9 mpg; great is more than 11 mpg. Fantastic is the low 20s. Here are four models known to break the 11-mpg barrier.
Pace Arrow Eleganza
This is a big RV with a massive, 6.2 diesel motor. Unlike most Class C's, it doesn't have a van-cab; it looks more like a Class A, built on a truck chassis. Popular in the mid-'80s, this RV is a great one and can still be found. And if it's in good tune, it should deliver gas mileage between good and great.
Fouwinds
Fourwinds' Class C, even with a massive V-10 motor, is capable of cracking the 11-mpg barrier. Part of its good mileage (in spite of 10 cylinders) is due in part to a more modern generator and in part to its somewhat diminutive size, at 24 feet.
Chinook
The Chinook is a 25-foot-long Class C built around Ford's popular pickup-truck motor/chassis package: the Powerstroke Diesel. Ford is known for reliability, but there are exceptions. Some model years had some nagging problems, but most are reliable, and you can expect good gas mileage.
Winnebago Vista
Built on a Sprinter Diesel chassis, Winnebago, the most popular motor-home manufacturer, has an entry in the Class C good mileage club: the Vista. This one might even get you over 20 mpg.
Writer Bio
John Willis founded a publishing company in 1993, co-writing and publishing guidebooks in Portland, OR. His articles have appeared in national publications, including the "Wall Street Journal." With expertise in marketing, publishing, advertising and public relations, John has founded four writing-related ventures. He studied economics, art and writing at Portland State University and the Pacific Northwest College of Art.