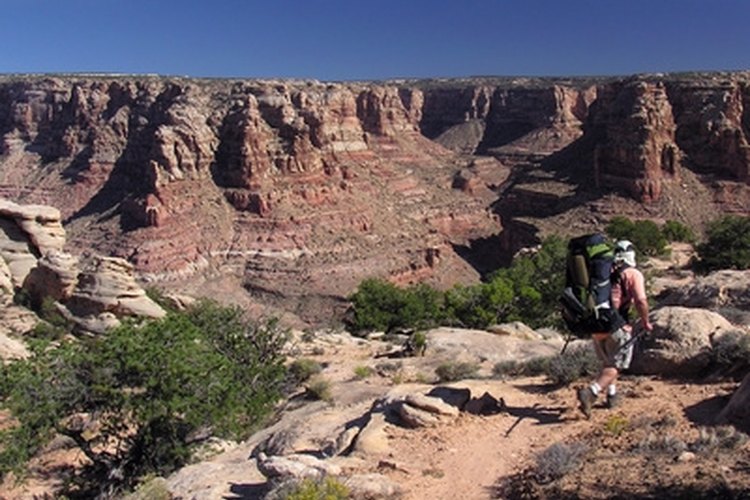 Camelbak water bladders, tucked into backpacks or some sports-specific clothing, will give you hands-free access to water. The original product found fans among cyclists and motocross riders who would otherwise have to stop for a drink, but now they're used for most any outdoor activity, from mowing the lawn to skiing double black-diamond runs. Enclosed in a backpack, the CamelBak bladder maintains the water at a moderate temperature in both winter and summer, making it more likely that you will stay well-hydrated. But even though they're simple to use, you can't just toss your CamelBak bladder into the closet between uses. Proper care of your Camelbak water bladder will extend its life, providing you with that refreshing drink when you need it.
Routine Use
Fill only to the maximum fill level, indicated at the top of each Camelbak reservoir, and protect the bladder from objects that could puncture the plastic.

Prevent residue from building up inside the reservoir. If you carried something other than plain water in the bladder, thoroughly clean and dry it immediately after use, or it could ferment while in storage. Although any liquid can be used in a Camelbak, using only water will help you avoid these problems.

Deter bacteria growth. Even if you only carry water, a moist CamelBak bladder shut tightly between uses and stored in the closet creates an environment favorable for bacteria growth. Rinse out both bladder and tube, and then either open it up with a reservoir dryer and hang it to dry completely or freeze it between uses.
Periodic Cleaning
Fill the bladder with warm water and mild soap between each use. Use a hydration bladder cleaning brush to scrub the inside of the bladder. Use a hydration tube cleaning brush to scrub the tube and mouthpiece. Both are available from Camelbak. Rinse out the soapy water completely.

Deep clean monthly by filling the bladder with one liter of water. Add a hydration system cleaning tablet, available from Camelbak, or a tablespoon of bleach, or any other suitable cleaning solution, to disinfect the bladder. After five minutes, drain the solution and rinse with clean water.

Refill the bladder with drinking water if you'll be using it again in a day or two. Otherwise, dry or freeze it as you usually would between uses.
Items you will need
Mild soap
Bladder brush
Tube brush
1 liter water
Cleaning solution
References
Photo Credits
backpacker heading into dark canyon image by Mike & Valerie Miller from Fotolia.com