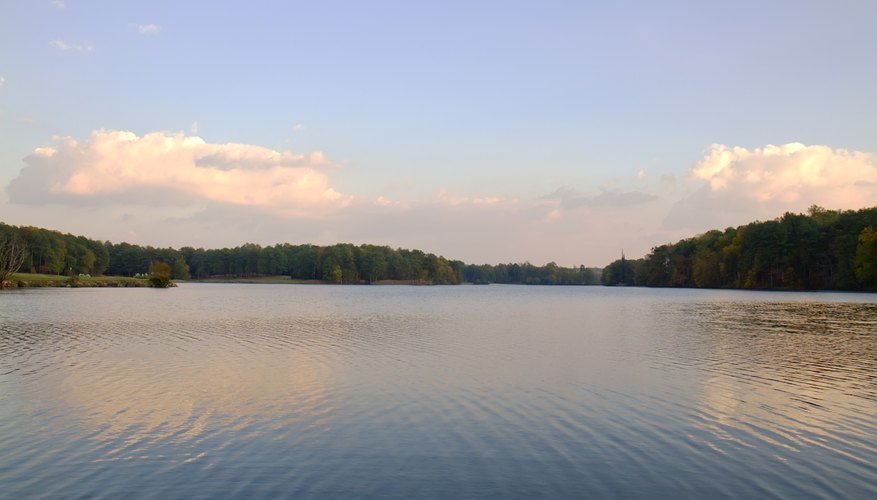 Located east of Atlanta, Stone Mountain Park (stonemountainpark.com) is one of Georgia's most-visited tourist attractions. The 3,200-acre park has camping facilities, an 18-hole golf course and some of northeast Georgia's best bass fishing. Other fish, including catfish, bluegill and crappie, are available in Stone Mountain Lake and its smaller neighbor, Venable Lake.
Lakes
Stone Mountain Lake covers 350 acres and is open to fishing year-round. The lake has shore access as well as boat rentals and launch facilities for private boats. Boats are allowed on the lake only during daylight hours, and are restricted to 10-horsepower motors or less. The only fee for Stone Mountain Lake is the small park entrance fee, but 37-acre Venable Lake is a pay lake, and an additional fee is required to fish in its waters. This smaller lake is open to fishing from March through October, and only park rental boats are allowed.
Fishing
Largemouth bass are the primary game fish in Stone Mountain Park, although both lakes offer excellent bass fishing. Some of the best bass fishing takes place in May and June, as largemouths congregate around points and creek channel ledges to recuperate and feed heavily after spawning. Jigs and Carolina-rigged soft plastic baits are highly effective, and you can also catch bass with topwater lures like poppers and buzzbaits.
Crappie fishing peaks in spring around shallow cover, and bluegill are available year-round. you can usually find bluegill around drop-offs and shallow vegetation, and a simple nightcrawler fished near the bottom or under a bobber is often all you need to catch them. Catfish inhabit deep water, but they often move toward the shallows to feed during low-light hours, and they bite on smelly natural baits like chicken livers, nightcrawlers, cut shad and dough baits.
Park Facilities
You can launch a boat on Stone Mountain Lake at the boat ramp on Stonewall Jackson Drive near the Evergreen Pavilion. Rowboats, canoes, pontoon boats and paddleboats are also available for rent. The park has concessions, dining facilities and gift shops, as well as a swimming beach, golf course, and a campground with more than 400 campsites for tents and RVs. You can also hike to the summit of Stone Mountain itself, an 825-foot dome rock formation for which the park is named.
Licenses and Regulations
A current Georgia fishing license is required to fish in Stone Mountain Park. Licenses are available in the park, through the Georgia Department of Natural Resources website, and at most tackle shops and sporting goods stores across the state. Statewide angling regulations are in effect on Stone Mountain Lake, and a complete guide to Georgia fishing seasons, limits and other regulations is available online or in printed form at most places where licenses are sold.
References
Writer Bio
When Richard Corrigan isn't writing about the outdoors, he's probably outside experiencing them firsthand. Since starting out as a writer in 2009, he has written for USA Today, the National Parks Foundation and LIVESTRONG.com, among many others, and enjoys combining his love of writing with his passion for hiking, biking, camping and fishing.