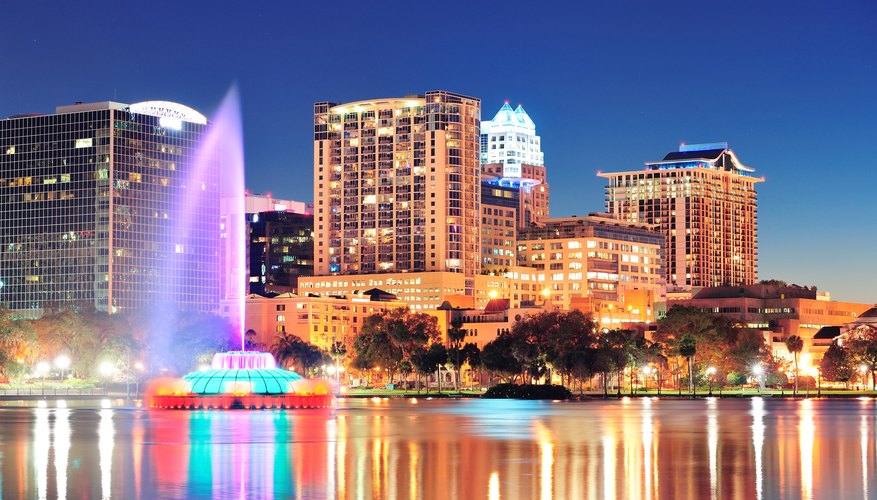 Orlando provides a nice backdrop for romance. The usually-clement weather and year-round mild temps make it easy for you to plan outdoor excursions. From scenic parks and aromatic gardens to fine dining establishments, you'll find plenty of romantic venues and things to do in "The City Beautiful."
Picnic in the Park
For an early evening picnic, head to Lake Eola Park in Orlando's downtown core. This beautiful setting has plenty of trees, benches and incredible views of the downtown skyline. Take a walk along the one-mile loop around the lake or rent one of the swan-shaped paddle boats. If you're looking for something a little more private, Orlando contains many scenic parks with water views, including Clear Lake Park or Lake Adair Park in the College Park neighborhood.
View the Sunset
There's something inherently romantic about sunsets. On Alabama Drive in Winter Park, you'll find Kraft Azalea Gardens, an 11-acre retreat along the shores of Lake Maitland. Bring your sweetie for an early evening stroll through the tree-lined paths and the thousands of azaleas, which bloom between January and March. Relax on a bench or bring a blanket to spread out under the trees by the lake shore to watch the sun go down. At Orlando Wetlands Park, you'll find more than 20 miles of biking trails along the 1,650 acres of woodlands, marshes and lakes. This wild, natural setting also offers spectacular sunset viewing.
Walking Hand in Hand
Winter Park's Park Avenue is a good place for sidewalk strolling with its many locally-owned shops and low key ambiance. Discover Orlando's art galleries in the downtown core, then head through the neighborhood of Thornton Park. Along Washington Street, you can dine al fresco at one of the street's many hip cafes.
Stars and Lights
Local tour operator Adventures in Florida features kayaking trips that rate high on the romance meter. On their Full Moon Paddle trip, you'll take a moonlit glide along Winter Park's chain of lakes. Bring along two plastic glasses so that you can toast the stars with your loved one and fellow paddlers. Ground transportation is provided to Titusville, approximately 40 miles away, when you register for the Living Light Dances at Night experience. Warm summer months create a phenomena known as bio-luminescence; while paddling watch for incredible light patterns beneath your paddle, as everything that moves or touches the water glows.
Make a Night of It
Spend the night at the Eo Inn and Spa at the southeast corner of Lake Eola Park. Indulge yourselves with a couples massage or relax in the hot tub on the rooftop terrace deck. Head out to the park for an early-morning jog before breakfast at the one of the area's many eateries. A night at the Courtyard at Lake Lucerne Bed and Breakfast is another downtown option. Frommer's recommends you ask for the honeymoon suite, because just off the main room is a quaint little glass-enclosed porch; the perfect spot to watch the sunset while sipping some wine.
References
Resources
Writer Bio
A resident of Toronto, Joy Kimber has been writing online since 2009. She provides travel-related content for LIVESTRONG Lifestyle and enjoys writing articles that focus on business, career, and psychology for eHow. She holds a Bachelor of Commerce and Administration from Bishop's University.