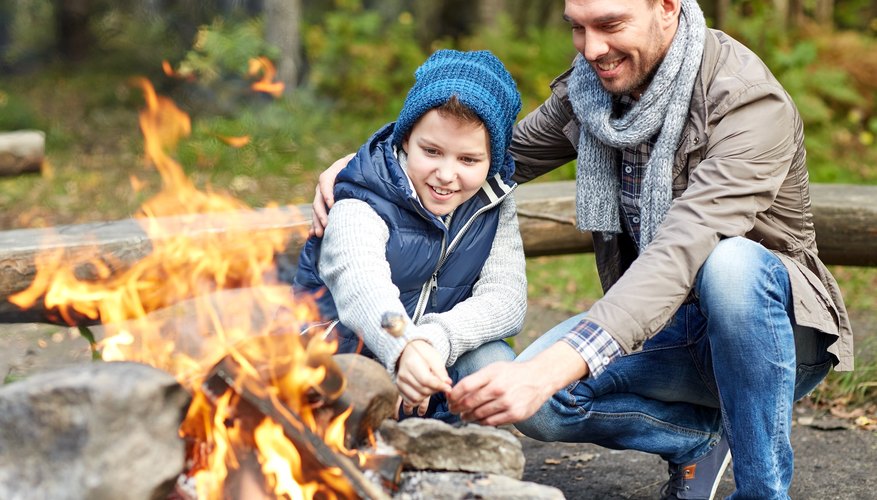 The Right Gear for Camping with Kids
Camping with your family can be a bonding experience that leaves lasting memories. Without planning, however, that experience can quickly turn south. Prepare for your camping vacation as you would a road trip. Know what to pack and what to leave at home.
Must-Haves for Family Camping
Extra Clothes: Don't rely solely on the weather forecast when you're planning what to pack. Extra socks are essential for little feet that have been splashing in a creek. A hat and rain jacket keeps the kids dry when it's raining. Pack pajamas for chilly nights— which will also remind your kids that nighttime is for sleeping.
Prepared food: If you're stuck at the campground on a windy day or in the rain and the campfire has gone out for the third time in an hour, prepared food will save the day. Pack crackers, individually wrapped pieces of cheese, fresh fruit, trail mix and granola bars, but, since there is no perfect camping food, keep your kids' tastes in mind when choosing what to bring.
Entertainment: Research your campground ahead of time so you'll know what activities you can count on for your kids. With that in mind, pack a few favorite games, coloring books and toys, especially if you're traveling with young ones who may not be able to participate in some activities.
Things to Leave at Home
Inform the kids they'll have tons of fun even if they leave their devices at home. Don't pack the game systems, tablets and phones. Do carry your smartphone in case of emergency, and hide a DVD player and some favorite DVDs in case you need entertainment during an extended rain storm.
Assume you and the kids are going to get messy and wet, even if it's sunny during your camping trip. Leave anything at home that you'll wind up fretting about like hand-wash only clothes, non-durable shoes and things that are expensive to replace.
Plan meals around foods that don't spoil quickly. The ice in the cooler will melt, eventually leaving ground meat too warm and salads made with mayo susceptible to bacteria.
Tips for Camping with the Kids
As nonsensical as it may seem, plan your first camping trip for your own backyard. Get everyone involved in erecting the tent and setting up the campsite. Even the youngest child can have a task that's his or hers alone. You'll learn who might be fearful about spending the night in a tent, and who needs to get up to use the restroom in the middle of the night.
Don't be afraid to strike camp and head home if the weather turns and the kids get restive and cranky. There's always next weekend.
If you find yourself at a campsite in a developed campground that doesn't suit you for reasons out of your control, such as a group that parties all night long next door, go to the campground manager, explain that you're camping with kids, and ask to move to a different campsite.
References
Writer Bio
Meg Jernigan has been writing for more than 30 years. She specializes in travel, cooking and interior decorating. Her offline credits include copy editing full-length books and creating marketing copy for nonprofit organizations. Jernigan attended George Washington University, majoring in speech and drama.