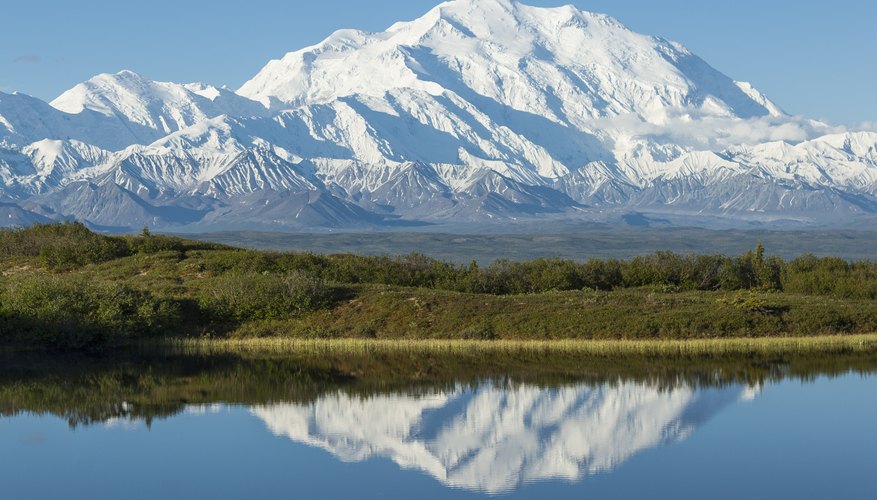 Visiting Alaska's Crown Jewel
The highest mountain in the U.S., designated Mount McKinley in the late 1800s, regained its original Athabascan Indian name in 2015. Now called Denali, the mountain in Alaska is a two-hour drive from the nearest major airport in Fairbanks, but visitors are rewarded with pristine wilderness.
About the Highest Mountain in the U.S.
Denali, at 20,310 feet, is the tallest peak in the U.S. A single road, 92 miles long, winds through the 6-million-acre national park that surrounds it. In order to preserve the park, personal vehicles can't be driven past the 15-mile mark. Beyond that, you'll need to hike, take a hop-on, hop-off shuttle bus or sign up for one of the narrated tour buses. Depending on which you choose, narrated tours last from four to 12 hours, round-trip.
Four lodges on private property at the end of the park road provide overnight accommodations in standard rooms and cabins. Each offers adventure experiences like gold panning, guided tours and nature watching. There are six campgrounds in the park with facilities for both tent campers and RVs.
Camps for Kids
If you're planning an extended stay at Denali, check out the park's summer programs for kids. The Alaska Geographic Field Institute operates programs for teens that include summer science camps and backpacking expeditions. Week-long discovery camps, geared towards kids in grades one through eight, focus on hands-on exploration. Students hike and camp in the park, supervised by a ranger and trained instructors.
If your trip is shorter, download Denali with Kids, a guide that helps children and parents engage with the park.
Staying Safe
Once you've ventured more than three miles from the park entrance, you'll lose cell phone service. Look to rangers, bus drivers, campground operators and staff at the visitor center for help in an emergency. Make sure your kids understand that they shouldn't approach wildlife or eat wild berries. Have them imagine how long three football fields would be end to end, and tell them that's how far away they should stay from wild animals like bears and moose. Before you head out for a hike, make sure someone knows where you're going.
Other U.S. High Peaks
Thirteen of the 20 highest peaks in the U.S. are in Alaska, but there are other notable mountains around the country. Mount Mitchell in western North Carolina is the highest mountain in the east, at 6,684 feet. A paved road leads to the summit, where you'll find an observation deck, museum and a seasonal primitive campground.
Mount Rainier, an active volcano, rises 14,410 feet in Washington's Cascade Range. Access by road is extremely limited in the winter. Consider visiting in the spring, when snowmelt swells waterfalls, or in autumn when crowds thin. The park has three drive-up campgrounds.
Kids who love trains will be thrilled to take a ride on the cog railway (515 Ruxton Ave., Manitou Springs, CO) that chugs up the side of Pikes Peak in Colorado. The 13.5-mile hike to the 14,115-foot summit should be reserved for the most experienced hikers in your family, but the peak is also reachable by car.
References
Writer Bio
Meg Jernigan has been writing for more than 30 years. She specializes in travel, cooking and interior decorating. Her offline credits include copy editing full-length books and creating marketing copy for nonprofit organizations. Jernigan attended George Washington University, majoring in speech and drama.