The state of Washington manages trout fisheries throughout the state providing anglers opportunities for productive trout fishing. According to the Washington-Oregon Game & Fish, more than 25 million fry, fingerlings, catchable trout and kokanee are stocked each year. Different types of trout can be found in Washington lakes.
Seasons
Trout fishing in Washington lakes is best during spring and fall when the water is at a desirable temperature---cold but not frigid, according to the Washington Department of Fish and Wildlife. This is especially true for anglers who prefer to catch rainbow trout in lowland lakes. However, larger and deeper lakes in Washington can be productive all year. To increase your chances of a strike, fish in shallow waters in the spring and fall and cast in deeper waters during the warmer summer months.
Trout Fisheries
Washington trout fisheries stock many alpine or high elevation lakes with cutthroat, rainbow and golden trout between the months of June and October. Planted trout tend to linger in the surface, about three to five feet of water for about a week after stocking. You can improve your success rate by shallow-trolling with small lures or baits for trout during this period, advised the Washington Department of Fish and Wildlife.
Lakes
Lake Roosevelt has a phenomenal trout fishery with trout ranging from 15 to 24 inches in size, according to the state department's biologist Chris Donnelly. Other lakes with productive trout fishing include Sprague Lake, Williams Lake, Badger Lake and West Medical Lake advised the Washington Game & Fish Magazine. Different types of trout you can expect to find in these well-stocked lakes include rainbow, cutthroat, brown and brook trout.
Bait and Lures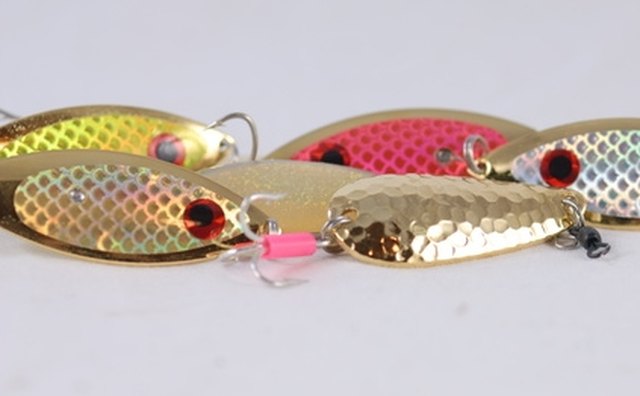 Washington Department of Fish and Wildlife reports that rainbow trout is widely distributed throughout the state and is also the most popular game fish. The rainbow trout's natural diet consists of plankton, insects, smaller fish and other invertebrates. Favorite baits used by local anglers in Washington lakes include worms, cheese, salmon eggs, marshmallows, natural insects and artificial baits. You can also try many artificial lures such as wobbling spoons, small diving plugs and spinners as they work well for attracting rainbows.